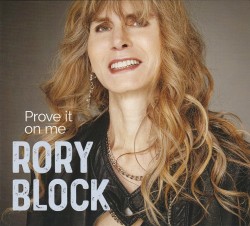 Power Women of the Blues Vol.2 – Prove it on me
Rory Block
Stony Plain Records (m2.labelstore.ca)
The last (and only) time I saw Rory Block perform was at the Winnipeg Folk Festival in 1985. But I remember being blown away by what I heard, and how she rocked that workshop stage! So, 35 years and six Blues Music Awards later, I am happy to report that Block continues to rock! With her recent album, Prove it on me, the second in her Power Women of the Blues series dedicated to the groundbreaking women of the blues, Block "proves it on us" why she is considered one of the world's finest blues artists.
While the first album of the series honoured the legendary Bessie Smith, this second volume celebrates some of the more obscure, yet immensely talented women of the blues; the well-known title track by Ma Rainey, and Memphis Minnie's In My Girlish Days are the exceptions.
Each carefully chosen track features the "Rory Block Band," that is, Block on vocals, all guitars, all drums and percussion. Her signature raw energy, soulfulness, authenticity and scorching vocals breathe new life into sassy tunes like Helen Humes' He May Be Your Man, It's Red Hot by Madlyn Davis, Rosetta Howard's If You're a Viper and Milk Man by Merline Johnson. Other names to look out for: Arizona Dranes, Lottie Kimbrough, Elvie Thomas.
Block has always paid homage to those who came before her. Prove it on me secures the place of these founding women of the blues in the annals of blues history.