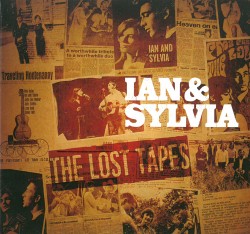 The Lost Tapes
Ian & Sylvia
Stony Plain Records SPCD1408 (stonyplainrecords.com)
Thank goodness for downsizing! Because that's what Sylvia Tyson was doing – that, and gathering archival materials for Calgary's National Music Centre – when she discovered, in her front hall cedar chest, a long-forgotten treasure trove of recorded-live-in-studio, Ian & Sylvia performance tapes from the early 70s. And thank goodness Tyson wisely asked some of the best ears in the business, i.e., Danny Greenspoon (an accomplished musician, himself) to produce and edit (once the 1/4-inch analogue tapes were digitized) Ian & Sylvia The Lost Tapes. Because the results are masterful!
To be clear, this is not so much a review as it is an homage to these pioneering Canadian icons of folk and country music, who helped pave the way for the likes of Gordon Lightfoot and Joni Mitchell. I mean, who the heck is going to "review" Ian & Sylvia singing Four Strong Winds, Summer Wages, Keep on the Sunny Side or When First Unto This Country, four of the 13 best-known and beloved classics appearing on disc one of the double album?
What's exciting for this 60-year-old folkie-at-heart is the selection of previously unreleased performances on disc two. Irresistible are the covers of Sweet Dreams, Jimmie's Texas Blues, The Last Thing On My Mind and Together Again.
Ian & Sylvia met 60 years ago. Last week they were both inducted, separately, into the Canadian Songwriters Hall of Fame. Ian & Sylvia The Lost Tapes is a heart-warming reminder of why their music still holds up.