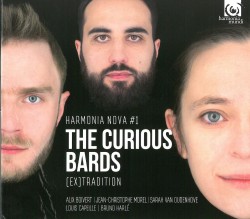 (Ex)Tradition
The Curious Bards
Harmonia Mundi HMN 906105 (thecuriousbards.com)
Hands up, those organizing an Irish ceilidh or Scottish Burns Night. Look no further for your music. These pieces were performed for the most part in the 18th century and what emerges is a highly individual blend. The Curious Bards received formal training in Baroque musical instruments. They have gone on to apply their expertise – and such instruments as the viola da gamba – to perform Irish and Scottish music which has emanated from a variety of sources.
The Curious Bards start with three Scottish reels collected by Robert Bremner in 1757: see if your guests can keep up with the raw energy of The Lads of Elgin! The Irish are not to be dissuaded, with their own opening trio. While some pieces are more melancholic than their Scottish counterparts, The High Road to Dublin displays the spirited quality of the works of Ireland's renowned bard Carolan.
The most imaginative arrangements on the CD must be the Highland Battle. Just as other Renaissance composers, for example, Byrd and Susato, set the sounds of a battle to music, so the Caledonian Pocket Companion of 1750 conveys the battle via flute and violin, even down to the mournful Lamentation for the Chief.
And so the jigs and reels continue (not least the Reel of Tulloch), enough for an evening's Irish and Scottish celebrations. This choice by Baroque-trained musicians is strange, but it should not deter anyone. There is a crispness to the interpretations, which that very training brings out.