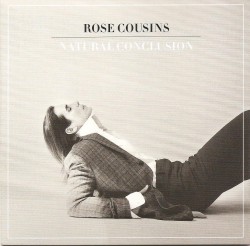 Natural Conclusion
Rose Cousins
Old Farm Pony Records OFPR021 (rosecousins.com)
I first heard Halifax-based, singer-songwriter Rose Cousins live at a café in Vancouver (my then home), almost nine years ago. I'd discovered her two days earlier, listening to a CBC Radio broadcast of a concert that had been recorded in Halifax a month before. As I tuned in, I caught this soul-searing voice, mid-song. "Who IS that?" I shouted at the radio. When her name was announced, I immediately googled it, and found out that Cousins was scheduled to play at this café two days later. Talk about timing!
Since then, Cousins has garnered international accolades, won several East Coast Music and Canadian Folk Music awards and a JUNO, and released a variety of CDs and singles. Natural Conclusion, her fourth and latest, full-length album, is a real stunner! Each track displays Cousins' gifts as a storyteller. Achingly beautiful lyrics are perfectly paired with the emotional intensity of her music. And then there's her striking voice that simply will transport you.
Freedom is an evocative take on letting go, knowing it comes with loss and heartbreak. Cousins calls it a "wreckoning." White Flag and Lock and Key might make you cry – a common reaction to much of her affecting work. Cousins' response to the teary-eyed? "You're welcome."
Rose Cousins is the real McCoy: a songwriter's songwriter; an open-hearted troubadour; a gracious collaborator who consistently works with some of the best in the biz. Natural Conclusion is testament to all that. A truly authentic voice, this rose is on the rise!