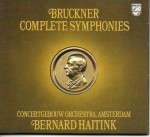 Universal Music, owner of DG, Decca, Phillips and others has been reissuing existing sets and creating new ones for re-release together with everything on an included single Blu-ray disc. Early releases included the complete Solti Ring Cycle, soon followed by the complete Karajan Ring from Berlin. Then the Complete Beethoven Symphonies under Karajan from 1962. Just to hand are The Complete Symphonies of Anton Bruckner played by the Royal Concertgebouw Orchestra (Decca 4834660, 10 CDs plus one Blu-ray disc).
These are the versions plus the Te Deum in distinguished performances with Bernard Haitink conducting issued by Phillips, recorded between 1963 and 1972. The Te Deum dates from September 1966 with soprano Elly Ameling, contralto Anna Reynolds, tenor Horst Hoffmann, bass Guus Hoekman and The Netherlands Radio Choir. Bruckner collectors like to know what performing version is employed, so for them, No.1 uses the Linz 1866; No.2 the Haas 1938; No.3 the second version 1877; No.4 the 1878 with the 1880 finale; No.6 original 1881 version; No.8 the Haas 1939 and No.9 the original 1894 edition. At the time of these recordings Philips' producer Jaap van Ginneken did not care to employ the then-latest noise reduction circuits. Instead, if I recall correctly, he increased the level of high frequencies' overall volume where the hiss lay, taking it back down on replay. That he was correct is amply demonstrated by these discs that display natural dynamics, a wide frequency response and are free of any sonic manipulations. As usual, Haitink is predictably professional and without editorializing allows the music to speak for itself.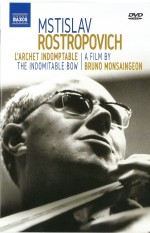 We always have the greatest expectations of any new film from biographer Bruno Monsaingeon. His 2017 biography of Mstislav Rostropovich, The Indomitable Bow, has just been released by Naxos on both DVD and Blu-ray video (Naxos 2.110583 DVD). Rostropovich is visited over the span of his life, first as a baby in his father's cello case. His adult years include playing with Prokofiev and Shostakovich and standing by them when they were totally banned. Prokofiev introduces him to Sviatoslav Richter with whom he developed a long association. Conductor Gennady Rozhdestvensky tells of Rostropovich's first visit to Prague where he played the Dvořák concerto conducted by Václav Talich, "That was the great breakthrough which launched him onto the international scene. He became famous worldwide." As Rostropovich states, "In that system going abroad was like a breath of fresh air, a great privilege. I was the third musician, after Gilels and Oistrakh, to go to America. It was amazing! From that point on, I was a 'somebody.'" There were later political dictates from Moscow that stood in his path and also blocked soprano Galina Vishneskaya, his wife. His Russian citizenship was revoked but later reinstated through the intercession of his friend Yehudi Menuhin.
There is so much more here to learn and enjoy. Rich with interviews and great music, this is video is not to be missed. There are bonus in-concert tracks: The Rococo Variations, variation VII through the end (Paris, Ozawa, 1986), Beethoven's Archduke Trio with Wilhelm Kempff and Yehudi Menuhin (Paris,1974) and the Sarabande from the Bach Cello Suite No.2 (1969). Also, there are 40 minutes of unique conversations with Olga Rostropovich, Elena Rostropovich, Natalia and Ignat Solzhenitsyn elaborating on the extraordinary, poignant friendship and bond between Rostropovich and Aleksandr Solzhenitsyn.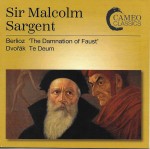 In this 150th anniversary year of the death of Hector Berlioz (1803-1869) the flood of new issues and even more re-issues is about to flow. One such is a live performance from 1953, the 150th anniversary of Berlioz' birth, of The Damnation of Faust conducted by Sir Malcolm Sargent (Cameo Classics, CC9108, 2CDs). Intriguing, as two names rarely mentioned in the same sentence are Berlioz and Sargent. This is an English-language performance using a singing translation by Paul England. Berlioz composed this Dramatic Legend as he called it, for three soloists, Faust, Marguerite and Mephistopheles, to be performed in a concert setting. Faust is sung by the ubiquitous tenor of the day, Richard Lewis; Marguerite is Australian mezzo-soprano Joan Hammond; and Mephistopheles is the great Polish bass Marian Nowakowski. The three fit their roles convincingly. A fourth character, a student named Brander, sung by bass-baritone Hervey Alan seems to have nothing to do with the plot.
I was most interested in hearing Joan Hammond as I was quite a fan and had not heard her for years. She was still in fine voice here, aged 41, but ten years later an operation affected her hearing and she retired to Australia. In addition to the Berlioz there is a live performance of Dvořák's Te Deum from 1954 (the 50th anniversary of the composer's death) also recorded in Royal Festival Hall. The soloists are Elizabeth Schwarzkopf and baritone Bruce Boyce. In this performance Sargent conducts the BBC Symphony and Choral Society. Ah, Schwarzkopf.
One of the most deserving artists resurrected from the archives that I had not heard in a long time is the late Greek pianist Vasso Devetzi. Born in 1927 in Thessalonica, her outstanding talents were recognized at a young age, giving her first recital aged seven. Her international career began in Paris playing the Schumann Piano Concerto under Albert Wolff. In the Soviet Union where she remained for several years in the 1960s and 70s she was associated with classical music superstars David Oistrakh, Rostropovich and Rudolf Barshai with whom she performed and recorded extensively in a repertoire including Haydn, Mozart, Shostakovich, Beethoven, Bach, Fauré and others. Back in France she was a close friend of fellow Greeks Maria Callas and Mikis Theodorakis. Devetzi died in 1987.
Devetzi's keyboard artistry is a harmonious combination of style, control, transparency and touch. To elaborate somewhat, she demonstrates a most sympathetic affinity with the unique style of the each composer. Her control is manifested by a magic blend of energy and purity. Her level of performance transparency and clarity is reminiscent of Glenn Gould (without mannerism or arrogance) and Dinu Lipatti. She is providing us with a personal measure of humour and communication. Her touch has a rare versatility, the ability to transform her instrument into an organ, a harp, a clavichord or a mandolin. In addition, with captivating lightness she can almost make the piano a non-percussive instrument. In summary, a delightful treat for the listener.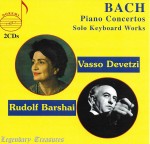 Volume 1 of the Doremi projected Vasso Devetzi / Rudolf Barshai collection (DHR-8063/4 naxosdirect.com) presents the six solo keyboard concertos, BWV1052 to BWV 1058 with the Moscow Chamber Orchestra. In addition there are works for solo keyboard: Partita No.1 in B flat Major BWV825; Chromatic Fantasy and Fugue BWV903; French Suite No.6 in E major BWV817 and the Prelude and Fugue No.5 BWV850 from The Well-Tempered Clavier.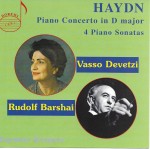 Volume 2 (DHR-8069) is all Haydn, with the same cast playing the Concerto in D Major Op.21, (Hob. XIII:11) in addition to four solo piano sonatas: C Major, Hob.XVI:35; F Major Hob.XVI:23: D Major, Hob.XVI:51 and A-flat Major, Hob.XVI:46.
The series is off to an exuberant start with the remarkable synergy between all concerned. There is lots of Mozart promised for the coming months.