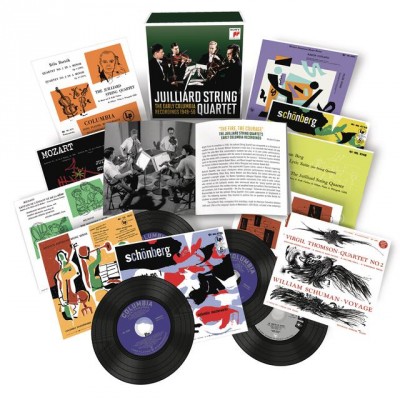 Many years ago, I chatted with members of the Juilliard String Quartet in Toronto when they were engaged to play at the recently opened North York Centre for the Performing Arts. I asked which of them was considered the "head of the quartet"? They each replied that they were all equally involved and responsible for decisions of repertoire and performance. Perhaps this is the secret to their excellence and longevity, that they all feel they are equal contributors.
The Juilliard String Quartet was neither composed of students nor members of the faculty of the elite New York conservatory, but rather founded at the instigation of William Schuman, American composer and president of the Juilliard School. His wish was to form a quartet that would "play the standard repertoire with the sense of excitement and discovery and play new works with a reverence usually reserved for the classics." Schuman found a kindred spirit in the young violinist, Robert Mann, who brought with him two former Juilliard classmates, cellist Arthur Winograd and violinist Robert Koff. They found their fourth member, Raphael Hillyer, in the Boston Symphony Orchestra. Hillyer enthusiastically switched from violin to viola to complete the ensemble.
This original Juilliard String Quartet gave their first public performance in 1947 in Tanglewood, introduced by the Boston Symphony's Serge Koussevitzky. The sound of these recordings, made by Columbia in the early years of the quartet from 1949 to 1956, is remarkably immediate and strikingly fresh. Some of the works may be new to a few collectors but every opus on these 16 well-chosen recordings enjoys an outstanding performance. The repertoire, featuring the Juilliard and a number of their colleagues, is as Schuman envisioned, including, not unexpectedly, two works of his own.
Here are all the works to be heard on these 16 CDs in the order in which they appear. Notice that this is not a potpourri of the usual repertoire of best-loved pieces but includes performances of many compositions that were new then. The opening work is Darius Milhaud's Cantate de l'enfant et de la mere, Op.185 with text by the Belgian poet Maurice Carême. It is for speaker, piano and string quartet and had premiered in Brussels in 1938 with the Pro Arte Quartet and the composer's wife Madeleine as speaker. Columbia made this recording two days before Christmas in 1949 in New York with Madeleine, pianist Leonid Hambro and the Juilliard all directed by Milhaud himself. A second Milhaud opus is The Household Muse, a collection of five pleasant piano pieces each lasting less than two minutes, played by Milhaud and recorded in 1945.
The complete Bartók String Quartets. The set that drew attention worldwide was the premiere recording of the complete string quartets by the recently deceased Béla Bartók. The Juilliard gave the first public performance of the complete cycle in 1949. Present in the audience were Dmitri Shostakovich and Columbia's legendary producer Goddard Lieberson, who shortly afterward went on to make these recordings. This was no small event as the "Bartók Scene" was where it "was at." I had not heard the complete cycle for some time and listening and paying attention, not only the intensity of the performances but the body of sound and the feeling of the players being right there, is captivating.
The next works are Berg's Lyric Suite and Ravel's String Quartet in F Major. For Aaron Copland's Sextet for Clarinet, Piano and String Quartet the Juilliard is joined by David Oppenheim and pianist Hambro. A composer named Ellis Kohs (1916-2000) is represented by his Chamber Concerto for Viola and String Quartet, with Ferenc Molnar solo viola. The abovementioned Schuman's String Quartet No.4 is follow by Ingolf Dahl's Concerto a Tre for clarinet, violin and cello with Mitchell Lurie, Eudice Shapiro and Victor Gottlieb. The complete string quartets of Arnold Schoenberg are followed by Anton Webern's Three Movements for String Quartet and Alban Berg's String Quartet No.3. Mann recalls an encounter with Arnold Schoenberg after a session when they were recording his four string quartets: "After we finished… we waited anxiously. He was silent for a while. Eventually he said with a smile 'I really must admit that you played it in a way I never conceived it… but you know, I like how you play it so much that I'm not going to say a word about how I think, because I want you to keep playing in that manner.'" These recordings from 1951-52 comprise three discs in this box set.
Reading lists like this one can surely become tiresome to the reader but I can assure you that listening to all these works, not in one sitting of course, was a pleasure. These are fine performances meeting Schuman's original ideals quoted above. But wait, there's more…
More American music from Leon Kirchner (String Quartet No.1) played by the American Art Quartet. Then we return to the Juilliard themselves with Irving Fine's String Quartet, Peter Mennin's String Quartet No.2 and Andrew Imbrie's String Quartet No.1. And then, at last, Mozart – String Quartet No.20 K499 and No.21 K575, providing a breath of fresh air and respite from the somewhat craggy modernism that dominates the discs. But after that refreshing pause we're back in the thick of the 20th century with Virgil Thomson's String Quartet No.2 and our old friend William Schuman's piano cycle, Voyage, in five movements played by Beverage Webster.
The penultimate disc features Alexei Haieff's String Quartet No.1 and Samuel Barber's Hermit Songs Op.29 sung by the incomparable Leontyne Price accompanied by the composer on piano. Columbia/Sony wraps up this collection with the Lukas Foss String Quartet No.1 with the American Art Quartet and finishes with the Juilliard performing William Bergsma's String Quartet No.3. Juilliard String Quartet – The Early Columbia Recordings 1949-1956 (Sony Classical 194398311029 16 CDs, amazon.com/Early-Columbia-Recordings-Various-Artists/dp/B08YLZW1YY)