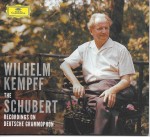 Wilhelm Kempff – The Complete Schubert Recordings On Deutsche Grammophon (deutschegrammophon.com, 9 CDs + 1 Blu-ray audio disc). Wilhelm Kempff was born in Jüterbog, Germany in 1895. He grew up in Potsdam where his father was the organist at the St. Nicolai Church. His grandfather was also an organist and his brother the director of church music at the University of Erlangen. Wilhelm's first teacher was his father; then, when he was nine, he went to the Berlin Hochschule für Musik where one of his piano teachers was Karl Heinrich Barth with whom Arthur Rubinstein also studied. His teacher for composition was Robert Kahn. Kempff would write two symphonies, piano concertos, violin concertos, four operas, chamber music and choral works. In 1914 he continued his studies at the Viktoria Gymnasium in Potsdam after which he returned to Berlin to finish his training. In 1917 he won both the Mendelssohn Prizes. By 1916 he was already recognized as one of the leading pianists of his time, especially noted as a Beethoven interpreter. His first major recital was in 1917 playing predominantly major works including Beethoven's Hammerklavier Sonata and Brahms Variations on a theme of Paganini. From 1924 to 1929 he was director of music at the Hochschule für Musik in Stuttgart. From then he devoted himself to concert appearances throughout the world. He was so well received in Japan that, it is said, they named an island for him, Kenpu-san. His first recital there was in 1936, returning frequently until 1979. Kempff made his first London appearance in 1951 and his New York debut in 1964. He gave his last public performance in Paris in 1981, retiring for health reasons (Parkinson's disease), dying in Positano in 1991.
In 1934/1935 Kempff made his first Schubert recordings. With the exception of a 1935 recording of Liszt's cute arrangement of Schubert's Stänchen D889, here only on CD, his complete Schubert recordings from DG are also contained on the single Blu-Ray audio disc in immaculate sound. Included are every one of the piano sonatas plus these no lesser works: six Moments Musicaux, D780; four Impromptus D899; four Impromptus D935; "Wanderer" Fantasy in C major D760; Three Piano Pieces D946; Andante in A Major D604; Allegretto in C Minor D915; Scherzo in B-flat Major D593 No.1, and finally his last Schubert recording for DG: from August 1970, 13 Variations on a Theme in A Minor by Anselm Hüttenbrenner D576.
From the very first sonata to be heard in this welcome assembly of Kempff performances, it is clear that this pianist was a natural Schubertian who understood and projected the composer's thoughts beyond the printed score.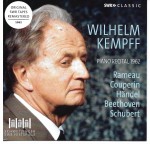 A new CD from SWR Classic contains an in-concert recording of a piano recital from the 1962 Schwetzinger Festspiel with Wilhelm Kempff playing in the Schwetzingen Schloss (SWR 19412). The program consists of short pieces by Rameau, Couperin, Handel, Beethoven and Schubert's Piano Sonata, D845. Poetic repertoire and pleasingly charming.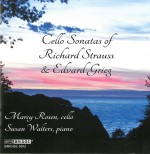 Bridge Records has reissued an album produced in association with the Musical Heritage Society for the Walter Fund Prize for Young Concert Artists first published in 1989 recorded at the SUNY Purchase Recital Hall. The artists involved are cellist Marcy Rosen and pianist Susan Walters playing Cello Sonatas of Richard Strauss and Edvard Grieg (Bridge CD 9512 bridgerecords.com).
Marcy Rosen has a high profile among concertgoers in the United States, Canada, England, Italy, France and The Netherlands. She was born in Phoenix, Arizona and her teachers include Marcus Adeney, Felix Galimir and Sándor Végh. She has collaborated with a who's who of luminaries including Leon Fleisher, Richard Goode, Mitsuko Uchida, Isaac Stern, Robert Mann, Sandor Végh, Kim Kashkashian and the list goes on. She is currently Professor of Cello at the Aaron Copeland School of Music at Queens College.
Susan Walters studied piano at the Curtis Institute and the Mannes College of music. She joined the New York City Ballet as a solo pianist in 1997 and has performed many important piano solos with the company. She performs outside the ballet with renowned artists including Midori, Mendelssohn Quartet, Orpheus Chamber Ensemble and with members of the New York Philharmonic. She works regularly with Jacques d'Amboise at the National Dance Institute. Walters is on the faculty at the Mannes College of Music in NYC. She is to be heard on recordings from the major studios including Bis, DG, Sony, Philips, Koch and others.
Together these two are a superlative chamber music team. Rosen is in perfect command of her instrument. Her playing has a beautiful singing quality and Walters' piano is sensitive to it. Together their music making flows spontaneously. With such harmonious playing our attention is on the music, not the players. Such a pleasure. Some credit must go to the engineers who perfectly balanced the two instruments.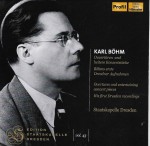 Back in the days of 78 rpm discs the pieces that took only one or two sides were the backbone of the industry. Recordings in the classical field of an overture, a waltz, an intermezzo, etc. were all safe bets to release just about anywhere. In Europe, Electrola was the company and their recordings were issued worldwide on HMV and their affiliates. In April 1935 Electrola made their first studio recording with the Saxon State Orchestra (Staatskapelle Dresden) conducted by their recently appointed (in 1933), 38-year-old conductor, Karl Böhm. Those two recordings of ballet music from Undine and the Clog Dance from Zar und Zimmermann, in remarkably fine sound, are included in a 2CD set of recordings from 1935 and 1938-39 of Overtures and Entertaining Concert Pieces (Profil PH18035 naxosdirect.com) all recorded in the Semperoper in Dresden. There are 24 tracks including overtures to Die Fledermaus; The Marriage of Figaro; The Abduction from the Seraglio; Leonore 3; Egmont; Der Freischütz; Aida (prelude); Oberon; Donna Diana and The Bartered Bride. Other pieces include the Interlude Music from A Thousand and One Nights; Eine Kleine Nachtmusik; two Hungarian Dances by Brahms; the Rákóczy March; the Emperor Waltz and other lollipops including a truncated version of Capriccio Italien. Dazzling would be the right word to rate the sound on these transfers. Not one quibble about the performances.