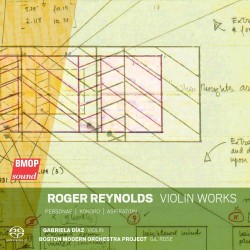 Roger Reynolds – Violin Works
Gabriela Díaz; Boston Modern Orchestra Project; Gil Rose
BMOP Sound 1086 (bmop.org)
The Boston Modern Orchestra Project and soloist Gabriela Díaz release a disc representing Roger Reynolds' violin works written over a 15-year period. Throughout Personae, for violin and orchestra, four characters are personified as indicated by the four movements' respective titles: The Conjurer, The Dancer, The Meditator and The Advocate. In this music, Reynolds makes sparse and delicate use of the orchestra, brilliantly supporting the varying expressions of character in the violin part. Intriguing echo motifs and electronic pulsations evoke atmospheres of striking originality. In the composer's own words, "the violin has a multifaceted voice" – a sonic attribute that is certainly achieved in this work.
Kokoro, a work for solo violin in 12 short movements, is a substantial contribution to the repertoire. Like Personae, it was written in consultation with dedicatee Irvine Arditti. This Zen-inspired work demands not only a world-class technical prowess, but also requires that the performer enter several challenging psychological dispositions in order to convey the poetic intention of the music. In her performance, BMOP violinist Díaz projects newfound dimensions of expression and colour. Each movement is delivered with a breathtaking and deeply personal musicality.
Last on the recording is Aspirations, a six-movement work for violin and orchestra that is a deep gesture representing the composer's longtime collaborative relationship with Díaz. It is decidedly thicker in scoring as compared to its companion heard earlier on the disc. Where Personae makes use of character manifestation, Aspirations utilizes a myriad of textures and colours as the primary mode of expression. Perhaps the most challenging of all the works on the recording, Díaz's extraordinary virtuosity is unforgettable throughout this work. Gil Rose produces a highly impressive amount of precision and definition from the BMOP ensemble and is quite at home in Reynolds' soundworlds.