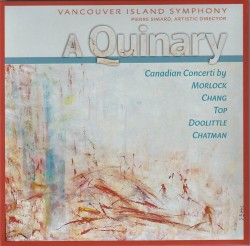 A Quinary – Canadian Concerti
Soloists; Vancouver Island Symphony; Pierre Simard
Redshift Records TK475 (redshiftrecords.org)
This Redshift release of five new concerti represents the culmination of a five-year commissioning project that paired five Canadian composers with principal players of the Vancouver Island Symphony.
Jocelyn Morlock's Ornithomancy, written for flute soloist Paolo Bortolussi, opens with sombre and mysterious interwoven sonorities below searching bright gestures in the solo flute part. The piece unfolds organically toward more excited materials where Bortolussi's virtuosity soars with wonderful clarity of tone.
The three movements of Dorothy Chang's Invisible Distance take the listener through moods of lyrical melancholy, excited drama and deep enchantment. Chang's highly imaginative orchestral scenes provide a brilliant tapestry over which cellist Ariel Barnes dazzles with soloistic fireworks.
Edward Top's Concerto for Bass Trombone and Orchestra is a shimmering fantasy embedded with rich bellows and sunken tones masterfully produced by soloist Scott MacInnes. Undulating repetitive spirals, delicate resonances and playful offerings comprise the three movements of Emily Doolittle's Sapling where violin soloist Calvin Dyck handles the varied material with a welcomed expressiveness.
Last on the disc is Stephen Chatman's Concertino for Horn and String Orchestra. This work is joyous and full of life. The dance-like structures, and soloist Andrew Clark's confident performance, create excitement and ever-forward momentum. With five successful new works and five brilliant soloist performances, this release is invigorating from start to finish. Five stars.