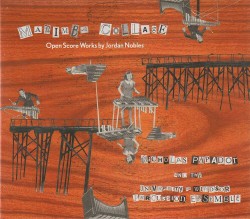 Marimba Collage – Open Score Works by Jordan Nobles
Nicholas Papador; University of Windsor Percussion Ensemble
Redshift Records TK 512 (redshiftrecords.org)
The music of Jordan Nobles draws you in from the first note – one immediately feels invited into an expanse that is gentle in its complexity. This Redshift recording represents the culmination of a longstanding collaboration between Nobles, percussionist Nicholas Papador and the University of Windsor School of Creative Arts where the composer's Open Score Works for marimbas have been regularly programmed. As with many projects in the pandemic, this recording was achieved through each musician capturing their performance remotely, later to be multitracked for the finished album.
Nobles' Open Score Works are indeterminate in their structure leaving many performance attributes – such as number of musicians, combinations of instruments, pitch, and duration – to be determined by the performers themselves. The result is a series of haunting intermixtures where the marimba gladly offers its deepest resonant brilliance. Throughout the 12 works on the recording the listener passes through a series of enchanting moods that shift like sand storms, as seen from miles above, that are somehow at once violently gripping across the landscape and also frozen in time. Works like Still Life, aether, Stasis and Nocturne paint sonic geomorphologies that propagate amid shimmering ephemera while works like Quickening, Ostinati and Kinetics rely on charming rhythmic interplay.
It is clear through listening to this release that Nobles' Open Score Works are a pleasure to perform. The unmistakable gratification inherent in this recording only adds to what Nobles continues to offer through his music: a gift.