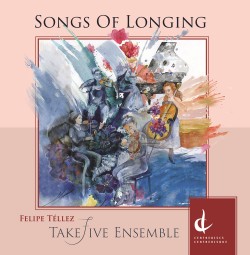 Felipe Téllez – Songs of Longing
TakeFive Ensemble
Centrediscs CMCCD 28721 (cmccanada.org/shop/cd-cmccd-28721)
The TakeFive Ensemble (comprised of violinists Lynn Kuo and Csaba Koczo, violist Carolyn Blackwell, cellist Emmanuelle Beaulieu Bergeron and pianist Shoshana Telner) have recorded two substantial works by Colombian-Canadian composer Felipe Téllez. The first – in three movements – titled Fate, is rather traditional in its language and form. This music cycles through a tempestuous first movement into a tender and lyrical second movement and finishes with a dramatic and sorrowful third and final movement. The composer describes fate as taking on many contrasting characteristics that may or may not be within our control. With the cheery punctuation heard in the final measures of this work, it is clear that fate has delivered a happy ending in this case.
The second work is a collection of songs without words in five movements that adopts a less classical treatment than the first piece on the disc. Titled Colombian Songs, it utilizes colourful gestures and clever twists of mood to provide a pleasing reaction to some traditional Colombian song sources. The musicians in TakeFive execute Téllez's music with a shimmering brilliance. The expressive quality permeating from each instrument in the ensemble is at once individually impressive but also blends into an exquisite whole. Bravo to TakeFive on some superb performances – an ensemble I hope to hear much more from in the future.