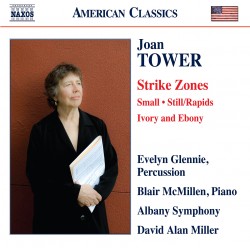 Joan Tower – Strike Zones
Evelyn Glennie; Blair McMillen; Albany Symphony; David Alan Miller
Naxos 8.559902 (naxosdirect.com/search/8559902)
Joan Tower is considered one of the most prominent living American composers. In this Naxos release we hear three world premiere recordings featuring the eminent percussion virtuoso Evelyn Glennie, pianist Blair McMillen and the Albany Symphony Orchestra.
The title track, Strike Zones, is a concerto for percussion and orchestra where Glennie's masterful technique is able to come alive with a dazzling display of fireworks. Whether it is an impressive solo on the high hats or a dramatic build-up on the drums, Glennie's performance is able to shine above the enchanting accompaniment in the orchestra. The piece SmalI, for solo percussion, is a meditative, almost ritualistic work that evokes a misty woodland scene at dusk. Next, the piano concerto, Still/Rapids, is aptly titled as its two movements depict the dramatic duality inherent in water for its ability to achieve both calm and violent characteristics. Lastly, the solo piano work, Ivory and Ebony, is a high-energy yet elegant piece with moods shifting from agitated to triumphant.
The performances on this release are top notch, and Tower seems to know the abilities of her performers in a profound way. For a vibrant and exciting display of technical wizardry, give this disc a listen.