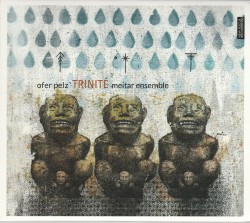 Ofer Pelz – Trinité
Meitar Ensemble; Quatuor Ardeo
New Focus Recordings FCR303 (newfocusrecordings.com)
Intricate prepared-piano ricochets and barbed ensemble alchemy converge to permeate the Meitar Ensemble's latest release – a portrait of music by Montreal-based Israeli composer Ofer Pelz. The five pieces on the disc represent an eight-year collaboration between the composer and the virtuosic ensemble.
Pelz's clear and punctuated sound world is well suited for the bravura and precision of intent capable by the Meitar musicians. The first work, Backward inductions, for augmented piano, evokes a process whereby reverse reasoning achieves a sequence of optimal actions. This dynamic music produces fluidity through compartmentalized yet spinning lines and tempestuous interruptions. A piece titled Convergence for alto flute and electronics is a wondrous barrage of granulated tinctures that envelopes the ear and the mind. The chamber work, marchons, marchons, performed in Toronto when New Music Concerts presented Meitar at the Music Gallery in 2017, offers delicate and distant conversations spoken in metallic whispers. Finally, a piece written in two movements for flute, prepared piano and amplified string quartet titled Blanc sur Blanc begins with a dance-like mysteriousness followed by windswept panorama.
The confident nature of Pelz's music is propelled forward by what is clearly a process-oriented approach – yet this attribute also contains a wealth of originality and expression. The music and performances on this release are as compelling as they are refreshing. Bravo to all.