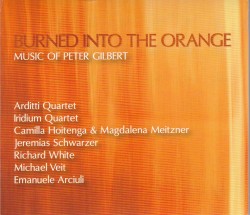 Peter Gilbert – Burned into the Orange
Arditti Quartet; Iridium Quartet; Various Artists
New Focus Recordings FCR300 (newfocusrecordings.com)
Composer Peter Gilbert's second full-length album – Burned into the Orange – is a collection of chamber works that explore rich and sensuous textures performed by the Arditti Quartet, Camilla Hoitenga, Magdalena Meitzner, Jeremias Schwarzer, Richard White, Michael Veit, Emanuele Arciuli and the Iridium Quartet.
The seemingly ever-rising pulsation of the voice opens wide to forget that which you are singing produces an ephemeral hypnosis. The title track, scored for saxophone quartet, evokes sonic tendrils creeping among the sinuousness of a liquid cathedral. The almost violent gestures of Channelling the Waters produces a musical energy that tunnels through unknown timbral pathways. A piece titled By the Lonely Traveller's Call, for tuba and amplified mute, transduces extreme guttural bellows into resonant sonic clouds. The lingering harmonic canopies of Soon as the Sun Forsook the Eastern Main evaporate monumental piano sonorities into monoliths of aural brilliance.
This album is saturated with aural enchantment – each piece seems to be on a journey from unaltered impetus to transcendent harmoniousness. Burned into the Orange will surely burn into memory for those who listen.