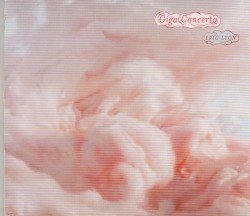 Eric Lyon: Giga Concerto
String Noise; Greg Saunier; International Contemporary Ensemble
New Focus Recordings FCR293 (newfocusrecordings.com/catalogue)
Frenetic energy and whirling pastiche permeate throughout Eric Lyon's Giga Concerto. Performed by the International Contemporary Ensemble (ICE), with guest soloists, this six-movement work is certainly a fun ride. The composer notes that the music of Brahms is decidedly "gloomy" and aims to avoid this attribute in his own music. The Giga Concerto does exactly that: the obvious polar opposite of gloom. The listener is treated to pure giddiness as Lyon enjoys many jaunty moments in each movement of the piece. The joviality of mood is unrelenting with many sarcastic string slides and punchy percussive romps. This release is truly a carnival dance in a not-to-distant land. The International Contemporary Ensemble, soloists Conrad Harris and Pauline Kim Harris (also known as the duo String Noise) and percussionist Greg Saunier execute the piece with supreme musicianship and technical mastery. The Giga Concerto is wonderfully buoyant – the perfect listen on a gloomy day.