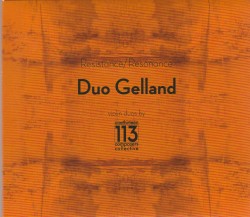 113 Composers Collective – Resistance/Resonance
Duo Gelland
New Focus Recordings FCR291 (newfocusrecordings.com/catalogue)
Duo Gelland is comprised of virtuoso violinists Cecilia and Martin Gelland. In their nearly 30-year history, the duo continues to champion contemporary music to a seemingly inexhaustible degree. In the duo's latest release titled Resistance/Resonance, members of the 133 Composers Collective were commissioned to provide the six pieces on the album.
Each piece delivers a wide-ranging approach to the violin duet from a noise-based aesthetic to shimmering landscapes produced by string harmonics. Jeremy Wagner's Oberleitung is a jagged study in electric gestures. Michael Duffy offers contrast with airy tones and gentle threads. The nostalgia-laden Autochrome Lumière by Joshua Musikantow offers a more melodic approach matched with prickly taps of the bow on the instruments. Sam Krahn's piece, the title track, is an engaging juxtaposition of different characters that provide interesting contrast and occasional togetherness. Difficult Ferns by Adam Zahller is a decidedly microtonal work filled with unstable and phantom imagery. The last track on the disc, cistern . anechoic . sonolucent by Tiffany M. Skidmore, creates a distant shadow aura amid slow-moving whispers – a piece that is magnificent in its understated quality.
Duo Gelland has produced yet another astounding example of their talents, and they handle each piece with an expressive and technical mastery that is not to be missed.