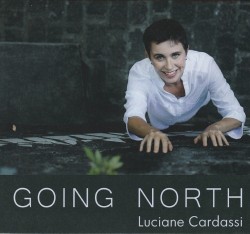 Going North
Luciane Cardassi
Redshift Records TK480 (lucianecardassi.com/going-north)
The eight pieces that comprise pianist Luciane Cardassi's latest release, Going North, are an impressive array of works by Canadian and Brazilian composers. The album is made up of several unique journeys – each piece providing a place where Cardassi's panorama of expression, and mastery of unusual playing techniques, shine with a world-class radiance.
The varied colours and vocal interjections in Terri Hron's AhojAhoj create a clever collection of sonic cross-play. In a piece titled Wonder, Emilie Lebel gives us exactly that: a complexity of engaging musical events that bewilder and enchant. Chantale Laplante's Estudio de um piano inhabits a world of distant creaks and whispers where a sorrowful beauty permeates a hollowed atmosphere. Punchy dissonances and prickly gestures pierce through rugged landscapes in Darren Miller's For Will Robbins.
The hypnotic aura produced in Converse (a piece credited to several composers) offers a gentle pathway amid the turf of more abrasive expanses heard on the album. Last on the release, we are left with the mysterious whimsy in Fernando Mattos' The Boat Sings, a work that creates an organic time domain of rubbery substances.
The highly skilled interpretive prowess of Cardassi leaves no doubt as to why this pianist has established herself as one of Canada's most important champions of contemporary music. With such an enticing set of performances, I'll be listening many more times, and looking out, eagerly, for the next release from Cardassi.