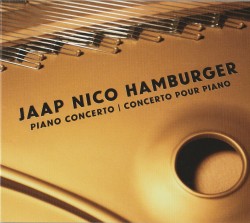 Jaap Nico Hamburger – Piano Concerto
Assaff Weisman; Orchestre Métropolitain de Montréal; Vincent de Kort
Leaf Music LM238 (leaf-music.ca)
Composer Jaap Nico Hamburger's first CD release is a Leaf Music recording of his Piano Concerto performed by Orchestra Métropolitain de Montréal under the direction of Vincent de Kort, with soloist Assaff Weisman. Set in the traditional three-movement concerto form, the piece opens with a mysterious orchestral introduction where the piano is welcomed into the texture through a Mahlerian sensibility. The second movement unmistakably recalls Prokofiev in its playfulness and tricky rhythmic attitudes. This almost schizophrenic hyperactivity is interrupted by a serene landscape evoking tragedy or loss. The boisterous activity quickly returns to provide somewhat of a rollercoaster for the listener. Throughout the third movement, sparse bells and undulating strings paint a menacing atmosphere for the final moments of the piece.
Weisman handles the virtuosic writing with extreme touch and sensitivity. With the concerto being only 22 minutes, one is perhaps left wanting more of a featured moment for the pianist, such as a cadenza – especially considering the fact that the piece is in the traditional three-movement form. The orchestra and soloist deliver a top-notch performance of a work that will please those who enjoy new sounds created in a Late-Romantic style.