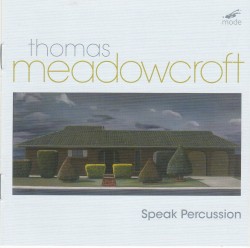 Thomas Meadowcroft – Percussion Works
Speak Percussion
Mode Records mode 319 (speakpercussion.com)
The Australian composer, Thomas Meadowcroft (b.1972), delivers a CD featuring four of his works written for percussion and electronics performed by his compatriots, the renowned Speak Percussion ensemble. In the first piece, titled The Great Knot, piercing electronic drones and chirpings create a delightfully barren expanse. This piece is a meditation in an open field with rusty swings and passing melodies in the wind. Cradles is a psychedelic lullaby warping lounge music into a hallucinogenic dreamscape. In Plain Moving Landfill, the listener travels through industrial ambiences and synthetic punctures. For a piece that is inspired by the layers of rubbish found in a landfill, this piece is decidedly calm – albeit in a Tim Hecker sense of the word. Lastly, Home Organs takes its inspiration from the attempt at memory retrieval at the onset of Alzheimer's illness. Our memories can create a sense of "home" or belonging for the individual. This piece certainly delivers a sense of frustration that undoubtedly accompanies a loss of this sense of home through the failure of one's own organs.
Meadowcroft has a particular knack for quirky electronic tinkering and applies these sonorities to obfuscate the difference between acoustic and electronic sources for the listener. When thinking about a CD of contemporary percussion music, the mind immediately expects to hear bombast and raucousness. This release is an extremely successful shift from the norm in its novel use of electronic auras that blend with acoustic instruments – a must listen for those seeking something unfamiliar in the world of percussion music.