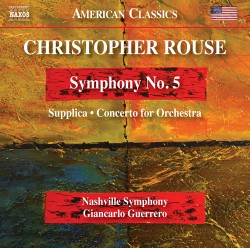 Christopher Rouse – Symphony No.5
Nashville Symphony; Giancarlo Guerrero
Naxos 8.559852 (naxosdirect.com/search/636943985229)
Few works carry such weighty baggage as Beethoven's Fifth Symphony. If a composer chooses to tackle the symphonic form in their output, and further manages to compose so many as five, one can choose to ignore this baggage or attempt to meet it head on.
In his Fifth Symphony, American composer Christopher Rouse, who died in September 2019, decidedly chose the latter. With a Grammy and a Pulitzer to his name, the celebrated composer shows that he was not intimidated by large forms as the work balances tradition and modernity with impressive prowess. The listener is clearly provided with classical reminiscences while also being transported through a contemporary sensibility of vast turbulence and serene calm.
Also on the disc are two restless pieces titled Supplica and Concerto for Orchestra. The former is lyrical and tender while the latter is a true orchestral showpiece where all players of the orchestra have their chance to shine. Already being one of the most performed composers of his generation, this disc shows that Rouse's legacy will no doubt continue on well into the future.