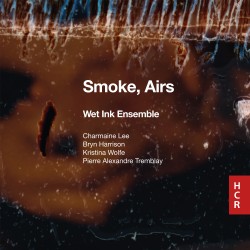 Smoke, Airs
Wet Ink Ensemble
Huddersfield Contemporary Records HCR24CD (nmcrec.co.uk/hcr)
In the latest release by the renowned Wet Ink Ensemble – titled Smoke, Airs – the ensemble's adventurousness and dedication to the music of our time is on brilliant display in four new works by three Americans and Canadian Pierre Alexandre Tremblay.
In the title track, experimentalist vocalist Charmaine Lee creates a haunting landscape of whips and sonic shadow worlds. Interesting vocal utterances paint both uneasy and beautiful atmospheres. Bryn Harrison's Dead Time contextualizes change within a static field in a context where the composer is clearly concerned with how our ears perceive the unfolding of variation through sameness. Kristina Wolfe's A Mere Echo of Aristoxenus is inspired by the ancient concept of aural architecture – a piece in two movements that evokes vast Greek spaces lost in time, creating a truly unique listening environment. Lastly, Tremblay's (un)weave is a study of our contemporary soundscape: the stop and go of the urban frantic reality and how one may find solace in such an environment.
The Wet Ink Ensemble has received much critical praise in their successful history as a collective. This release will continue to heighten the group's deserved reputation.