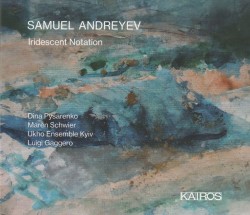 Samuel Andreyev – Iridescent Notation
Dina Pysarenko; Maren Schwier; Ukho Ensemble Kyiv; Luigi Gaggero
Kairos 0015002KAI (kairos-music.com)
In this latest release from Canadian composer Samuel Andreyev (b.1981), the virtuosic Ukrainian Ukho Ensemble Kyiv and guest soloists expertly deliver a collection of chamber works that highlight an artistic voice of obvious contemporary importance – a voice well beyond its years in maturity and control of expressive intent.
This disc begins with the title-track work, a piece in seven movements for soprano and ensemble, with text by well-known English-Irish poet Tom Raworth. Here, the strong ensemble writing expertly punctuates elegant beacons that complement the soaring soprano part remarkably well. The extended techniques (unusual ways of playing the instruments) used throughout are decidedly modernist in their application, but the utility of these procedures is not used merely for surface effect: the resultant atmosphere heightens the quality of the text setting through highly creative musical pronouncements. A big standing ovation must go to soprano Maren Schwier for an incredible display of vocal acrobatics and control of colour, in what is quite a challenging work for the voice.
With a collection of works that make use of many impressive jagged gestures that never seem to disappoint despite their frequency, there is a brilliant moment of contrast on the disc in a piece titled Nets Move Slowly, Yet. This piece is mysterious and elegant as it unfolds throughout pulsing hypnotic panoramas. Expectations are not redirected through punchy instrumental interjections, but through abrupt yet gentle shifts in mood – a quality that produces beauty through lucidity.
With a collection of successful and sophisticated works, it is no wonder Andreyev continues to make his mark on the contemporary music world. We all look forward to more exciting music from this young talent.