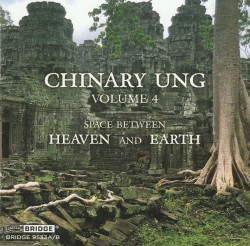 Chinary Ung Vol.4 – Space Between Heaven and Earth
Various Artists
Bridge Records 9533A/B (bridgerecords.com/products/9533)
American-Cambodian composer Chinary Ung began his career writing music highly inspired by 20th-century modernist techniques in what was typical in the post-Second Viennese School climate. After a ten-year hiatus from composing to help with the Cambodian genocide and resultant refugee crises, Ung re-emerged to write in a new and highly personal compositional voice exploring cross-cultural practices. This is doubtless a by-product of Ung's efforts to preserve Khmer traditional music during the Cambodian crises. In an effort to create a substantial document of Ung's mature style, Bridge records has committed to a series of recordings of the composer's mature works.
In Volume 4 we receive a two-disc collection of five vastly original and accomplished chamber works. Ung has created a world of highly ritualistic gestures and mysterious auras. In the Grawemeyer Award-winning composer's own terms, his mature style may be summarized as "futuristic folk music" – a term that aptly describes Ung's use of quotation and evocation in a truly contemporary landscape. Throughout each piece, we as listeners are surrounded with entwined modal intricacies, suggestive drones, and shimmering percussive magic – all creating the elixir of undiscovered, and yet familiar, cultural scenery. This, together with world-class performances from the musicians, transports the listener to a place where time seems lost, and instead, sound pervades a sense of instance.