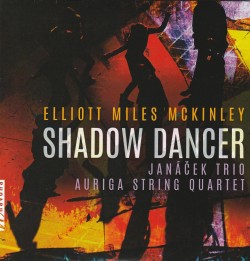 Elliott Miles McKinley – Shadow Dancer
Janáček Trio; Auriga String Quartet
Navona Records nv6264 (navonarecords.com)
As I write this review on Valentine's Day (despite any personal reservations about this day) it seems fitting – and strangely serendipitous – that I am writing about a collection of pieces centred around the common theme of remembered love. Elliot Miles McKinley's Shadow Dancer contains three chamber works from the well-known American composer: a quartet performed by the Auriga String Quartet, a duo for cello and piano, and the title work, a piano trio in six movements performed by the eminent Janáček Trio.
Sentimentality is a term thrown around in many negative contexts – and rightly so when a surplus of emotion is offered in excess of the object itself. That said, McKinley provides easily recognizable moods through varying angles that in turns assume flourishes of jarring dissonances, agonizing punctuation and repetitive thoughts that somehow create a welcomed atmosphere of sentimentality. These shifts in emotional temperament are most expertly woven in the String Quartet No.8 – a work that ignites a journey of doubt and eventual spontaneous resolution. The aforementioned duet, A Letter to Say I Love You, and Goodbye, is most fittingly titled in its obvious dramatic purpose and longing. Shadow Dancer attempts to create a sense of purpose through love and understanding – wordless poems that are expertly performed by the highly accomplished musicians.