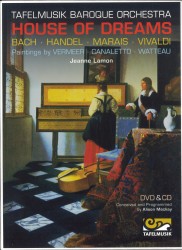 House of Dreams
Tafelmusik Baroque Orchestra; Jeanne Lamon
Tafelmusik TMK1020DVDCD
Review
Alison Mackay plays violone and double bass with Tafelmusik. She has also devised several elaborate and imaginative audiovisual programs for both Tafelmusik and the Toronto Consort. An earlier such program for Tafelmusik, The Galileo Project, was released in March 2012. A month before that date House of Dreams was first performed at Banff. It has since been shown elsewhere in Canada (including Toronto), in the US, Australia and New Zealand.
House of Dreams is structured around one palace (in Paris) and four houses (in London, Venice, Delft and Leipzig) which are important to the story that Mackay has written. In the London section, for instance, we are taken into Handel's house and we can see and hear his music with, as background, reproductions of the paintings which we know he owned. The musicians play on the DVD without scores (an impressive achievement in itself) and there are many lovely moments of musical and dramatic interchange, such as the item in the Handel section with the violinists Cristina Zacharias and Thomas Georgi. I have to say though that occasionally there is an unconvincing over-insistence on the players' part in their attempt to bring out how much they are enjoying this. And it may be my imagination but were there not also moments of self-parody?
The DVD comes with a CD which contains the soundtrack (of the music, not the narration). I was especially taken with the slow movement of Vivaldi's Lute Concerto (Lucas Harris), the Sweelinck harpsichord solo (Charlotte Nediger) and the "Allegro" from Bach's Concerto for Two Violins (Jeanne Lamon and Aisslinn Nosky). The performances are superb throughout but I cannot pass over the wonderful woodwind playing (John Abberger and Marco Cera, oboe, and Dominic Teresi, bassoon).