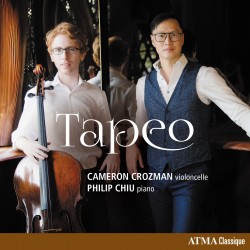 Tapeo
Cameron Crozman and Philip Chiu
ATMA Classique ACD2 2820 (atmaclassique.com/en)
Listen
Requiebros
Estrellita
Chants oublies
Read the Review
The following review is an excerpt from Strings Attached (March 2021) which can be read in its entirety here.
The Canadian duo of cellist Cameron Crozman and pianist Philip Chiu is in fine form on Tapeo, a delightful recital of popular Spanish pieces (ATMA Classique ACD2 2820 atmaclassique.com/en).
Crozman says that he fell in love with Spain the moment he first stepped into the Tapeo tapas bar on his first day in Barcelona, and when the Canada Council awarded him the loan of the "El Tiburon" cello from around 1769 attributed to the Spanish maker Joannes Guillami he knew he had to make a recording honouring its Spanish origins. Crozman describes the resulting CD as his own "tapas party" of short, diverse Spanish pieces.
Included are Cassadó's Requiebros, de Falla's Suite populaire espagnole, Ravel's Pièce en forme de Habañera and Alborada del Gracioso, Turina's Polimnia-Nocturno, Granados' Intermezzo from Goyescas, Albéniz's Asturias (Leyenda), Ginastera's Triste, Estrellita by the Mexican Manuel Ponce and Chants oubliés by the Chilean-Canadian Alberto Guerrero.
The gentle warmth of the Guillami cello's tone is perfect for this material, with both performers providing beautifully nuanced playing in a top-quality CD.