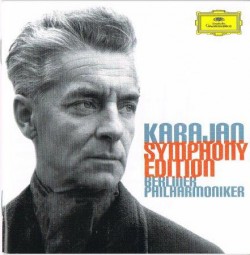 Karajan Symphony Edition
Berlin Philharmonic Orchestra
Deutsche Grammophon 4778005
The following is an excerpt from the October 2014 Old Wine in New Bottles.
Review
The
Karajan Symphony Edition (4778005)
is an extraordinary offering: 38 CDs for no more than $60 retail! Here are the
complete
Beethoven symphonies (1972 version) + overtures; the four Brahms symphonies
+ Haydn Variations
and
Tragic Overture
, the nine Bruckner symphonies
,
Haydn's
Paris
and
London Symphonies;
Mendelssohn's five symphonies; Mozart's late symphonies; Schumann's four symphonies
and Tchaikovsky's six symphonies, etc.
All the discs reflect the latest remasterings. How is this giveaway price possible? There are a few factors to consider: DG owns the masters; the recording sessions are long ago paid for and DG is making a lot of copies for worldwide distribution. It still is hard to figure out, but who's complaining?