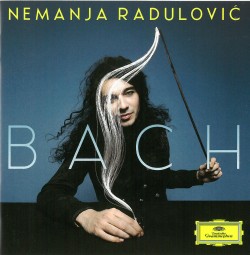 BACH
Nemanja Radulović
Deutsche Grammophon 479 5933
Review
The following is an excerpt from Strings Attached (December 2016) which can be read in its entirety here.
If you like your Bach bright, clean and with an abundance of energy, then you will really enjoy BACH, the new CD from the Serbian violinist Nemanja Radulović (Deutsche Grammophon 479 5933). It's described as being in a way the continuation of his exploration of the Baroque repertory following his Vivaldi project, The Five Seasons, but it's just as clearly a return to his roots and his earliest musical studies.
His former fellow student Tijana Milošević joins him in a performance of the Concerto for Two Violins in D Minor BWV1043 in which the outer Vivace and Allegro movements are just about as fast as you're likely to hear them. There is lovely clean playing throughout, though. The string ensemble Double Sens provides a crystal clear accompaniment.
The Concerto in A Minor BWV1041 receives similar treatment, with a particularly lovely slow movement; Radulović really does have a beautiful tone.
The other J. S. Bach works on the CD are a mixture. The short Gavotte from the Partita No.3 BWV1006, the only solo piece on the disc, is clean and bright. The remaining three works are all presented in arrangements for violin and strings by Aleksander Sedlar: the Toccata & Fugue in D Minor BWV565 (where Les Trilles du Diable provide the accompaniment); the Air in D Major from the Orchestral Suite No.3 BWV1068; and the Chaconne in D Minor from the Partita No.2 BWV1004. There is more than a hint of the old Leopold Stokowski transcriptions here.
Radulović also learned the viola in his native Belgrade and studied the Viola Concerto in C Minor that was long thought to be by Johann Christian Bach but is now described as being "reconstructed" by Henri Casadesus. It is included here as a nod to his student days.