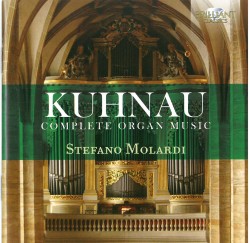 Kuhnau Complete Organ Music
Stefano Molardi
Brilliant Classics 95089
Review
The following is an excerpt from Keyed In (October 2015) which can be read in its entirety here.
Italian organist Stefano Molardi has undertaken an ambitious project with Kuhnau Complete Organ Music (Brilliant Classics 95089). The 3-CD set contains all the Sonatas, Preludes, Fugues and a single Toccata. Kuhnau was Bach's immediate predecessor at the Leipzig Tomaskirche and made a significant impact on the music of his time.
The entire project was recorded in the summer of 2014 on two different instruments that might well have been known to Kuhnau. Both built by Gottfried Silbermann, the 1714 cathedral organ in Freiburg and the smaller 1722 organ of the St. Marienkirche in Rötha both show the typically bright mixtures and overtone-rich reeds of the German Baroque.
Molardi approaches the Six Biblical Sonatas in a way that exploits their highly programmatic content. Using all the colours and effects available on the Freiburg organ, he retells the numerous Old Testament stories that Kuhnau portrays. As late baroque style goes, there is an amazing freedom of expression in the writing that includes great fantasia-like sweeps as well as rigid fugal architecture. Kuhnau must have had a ball writing these.
Even more impressive are the individual Preludes, especially the Prelude in E Minor and the Prelude alla breve in G Major. Both are regal in presentation and use the full scale of their instrument to fill the Freiburg cathedral. Both organs are, of course, trackers and so give us some audible mechanical action noise during soft passages. This a wonderful document for serious organ buffs.