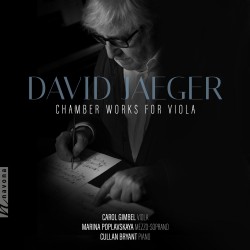 David Jaeger – Chamber Works for Viola
Carol Gimbel; Marina Poplavskaya; Cullan Bryant
Navona Records NV6528 (navonarecords.com/catalog/nv6528)
Listen
Sonata no. 2 for viola and piano for Carol Gimbel: 1. With a certain abandon
Six Miniatures on poems by David Cameron, for solo viola: 1. Landscape
Three Songs for mezzo-soprano, viola and piano, on poems by Carol Gimbel: III. simple moment
Read the Review
Toronto composer and music producer David Jaeger (b.1947) has had a long, illustrious career. A founding member of the Canadian Electronic Ensemble, he enjoyed an influential four-decade career at CBC Radio commissioning hundreds of compositions and producing well over a thousand national broadcasts championing contemporary concert music from Canada and beyond.
Jaeger's early 1970s show Music of Today kindled my growing interest in new developments in classical music. My interest was further stoked by his long-running, influential new music program Two New Hours (1978-2007) on which I occasionally appeared.
When not in the studio or on international juries, Jaeger always found time to pursue his own composing. And the viola appears time and time again in his scores. For example, the early Favour (1980) for viola and live digital delay controlled by the performer was written for the outstanding Israeli violist Rivka Golani, followed by Sarabande (1993).
The five works on Chamber Works for Viola continue Jaeger's exploration of the expressive possibilities of the instrument, here played by New York/Toronto violist extraordinaire, Carol Gimbel.
My recital favourite is the expressive viola solo White Moon Legend. Exploiting the instrument's wide range of bowed cantabile and pizzicato effects, Jaeger's melodies appear in contrasting tessituras, heightening the work's dramatic narrative arc.
Gimbel's passionate advocacy of this music is amply supported by the warm and husky tones of her ex-Emmanuel Vardi 1725 viola. Also a great support is the attractive recording which details the viola within natural-sounding room sonics graced with a satisfying bloom of reverb.
Buy Now
Avaliable on Apple Music, Deezer, Spotify and Amazon Music