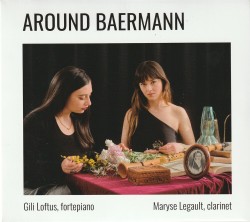 Around Baermann
Gili Loftus; Maryse Legault
Leaf Music LM265 (leaf-music.ca)
Listen
Variationen über ein Thema aus "Silvana", Op. 33, J. 128
Introduction & Polonaise, Op. 25
Clarinet Sonata in E- flat Major, MWV Q 15:Adagio. Allegro moderato
Read the Review
Carl Maria von Weber's success came from knowing his strengths and, I'd argue, his shortcomings as well. He didn't try to be Ludwig.2, but he killed it writing over-the-top operas (showing Wagner how), and he killed it as a touring pianist alongside such virtuosi as clarinetist Heinrich Baermann. He gave up writing symphonies after two early attempts, and turned his attention to operas, concertos and chamber music, including a ton of great stuff commissioned by Baermann.
Clarinetist Maryse Legault joins forces with Gili Loftus (pianoforte) on the recent release of pieces written by, for, or during Baermann's heyday. Legault's mouthpiece (I suspect) is wood instead of (modern) hard rubber, which could account for her inconsistent tone; it would be tough managing two different fibrous materials as they interact with the local weather. She can really play the ten-keyed period clarinet (a copy of one played by Baermann) with assurance and subtlety, but sometimes her volume distorts colour and pitch. Most convincing is the Andante con Moto from Weber's Grand Duo Concertante, Op.48, where Legault assumes the proper role as diva, reaching high and low for expression. Bravo also to Loftus for making such tasteful decisions on all the tracks. The Grand Duo is her tour de force.
My main beef is that not all the material warrants attention. Champions of Felix Mendelssohn won't use his early Sonata to bolster their argument. And a tossed-off filler (per Legault's informative liner notes) like Weber's Variations on a Theme from the opera Sylvana, Op.33 takes too long to type, let alone listen to. They'd have done better to include in its place a charming selection accessible only online: Sonatina for Clarinet and Piano, by Caroline Schleicher-Krähmer, a clarinetist/composer of the same period with otherwise no known connection to Baërmann.
Clever cover photos reference another great Romantic artist, Johannes Vermeer.