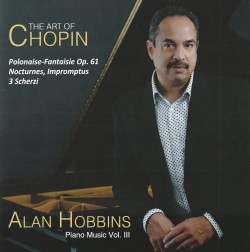 The Art of Chopin
Alan Hobbins
Maestro Music Company MMCD05 (alanhobbins.com)
Listen
Scherzo No. 3 in C-sharp minor Op. 39
Nocturne in C minor, Op. 48, No. 1
Polonaise-Fantaisie Op. 61
Read the Review
Canada seems to produce many first-rate pianists one after another: Hewitt, Lisiecki and Fialkowska, not to mention the immortal Glenn Gould! Into this august circle now endeavors to step Alan Hobbins. A pianist of Jamaican descent, Hobbins graduated from The Royal Conservatory and later studied at Juilliard. His teachers included the late great Leon Fleisher and Chopin specialist Marek Jablonski. Since then he has given many concerts in Toronto and New York to great critical acclaim. I met him several times in the 80s (he being my daughters' piano teacher) and was invited to his debut concert. I was particularly impressed with his special affinity to the music of his homeland and American jazz.
Chopin is definitely his favourite composer and this is Hobbins' third recording devoted entirely to his work. It's a wonderful collection skilfully selected to give a good cross section of Chopin's most beloved and immensely difficult pieces. He masters all the challenges with superb technical skill. Above all he brings "a subtlety of expression to every phrase, single chord or a note" raves one newspaper.
From the program of Scherzos, Nocturnes and Impromptus, some of my favorites are the majestic Nocturne in D-flat Major with its grand melody. This is followed later by a masterly performance of the Scherzo No.2 in B-flat Minor that opens with those powerful chords from which a beautiful, emotionally charged melody emerges followed by that peaceful meditative mid-section and the magnificent super bravura coda.
And dare I mention the explosive, tremendously passionate, heroic Nocturne in C Minor that makes me shiver every time I hear it? This is truly grand-scale pianism with the ebb and flow of emotion superbly controlled.