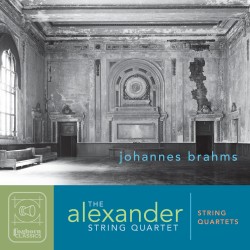 Brahms: String Quartets
Alexander String Quartet
Foghorn Classics FCL2022 (foghornclassics.com)
Listen
String Quartet No. 1 in C Minor, Op. 51 No.1 I. Allegro
String Quartet No. 2 in A Minor, Op. 51 No. 2 IV. Finale. Allegro non assai
Intermezzo in A Major, Op. 118 No. 2 - Andante teneramente
Read the Review
The Alexander String Quartet marks its 40th anniversary as well as the departure of founding violist Paul Yarbrough with Brahms: String Quartets, the final volume in the ensemble's series of the complete string chamber works of Brahms (Foghorn Classics FCL2022 foghornclassics.com).
Yarbrough notes that the ASQ took decades to feel ready to record these quartets, and they certainly get to the heart of the music in powerful performances of strength and depth in the String Quartets in C Minor Op.51 No.1 and in A Minor Op.51 No.2. The String Quartet No.3 in B-flat Major Op.67 – Brahms' favourite of the three – is bright and playful.
A transcription of Brahms' Intermezzo in A Major Op.118 No.2 by the ASQ's first violinist Zakarias Grafilo completes a fine disc.