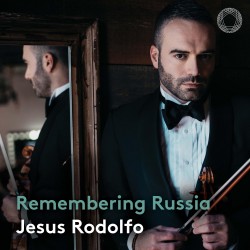 Remembering Russia
Jesús Rodolfo; Min Young Kang
Pentatone PTC 5186 287 (naxosdirect.com/search/ptc5186287)

Listen
Sergei Prokofiev
Romeo and Juliet, Op. 64 (Excerpts Arr V. Borisovsky for Viola & Piano): Introduction
Sergei Rachmaninoff
Cello Sonata in G Minor, Op. 19 (Arr. V. Borisovsky for Viola & Piano): II. Allegro scherzando
Igor Stravinsky
Suite italienne (Arr. Jesus Rodolfo for Viola & Piano): II. Serenata
Read the Review
The following review is an excerpt from Strings Attached (December 2021) which can be read in its entirety here.
On Remembering Russia the Spanish violist Jesús Rodolfo, accompanied by pianist Min Young Kang makes his Pentatone label debut in a recital showcasing three 20th-century Russian composers all of whom left their homeland (PTC 5186 287 naxosdirect.com/search/ptc5186287).
Six selections from Prokofiev's Romeo and Juliet, arranged by the Russian violist Vadim Borisovsky make a strong opening to the disc. Borisovsky also made the wonderfully effective 1950 transcription of Rachmaninoff's Cello Sonata in G Minor Op.19, a work perfectly suited to the viola's tonal quality and range. Rodolfo's own transcription of Stravinsky's Suite Italienne "Pulcinella" completes the CD.
Rodolfo is a terrific player with a gorgeous tone. He is fully matched here by Kang, with the Rachmaninoff in particular drawing quite superb playing from both performers.