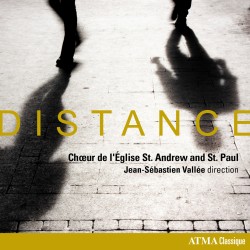 Distance
Choeur de l'Eglise St. Andrew and St. Paul; Jean-Sébastien Vallée
ATMA ACD2 2840 (atmaclassique.com/en)
Listen
Agnus Dei
Magnificat
Hallelujah
Read the Review
Recorded at the height of Montreal's second wave of the COVID-19 pandemic under extremely specific and restrictive public health conditions, Distance could not be more appropriately titled. Despite these challenging times and conditions, this disc manages to distill an extraordinary amount of strength and beauty into its 69 minutes, a testament to the quality of the Choir of the Church of St. Andrew and St. Paul and its director, Jean-Sébastien Vallée.
Spanning nearly five centuries of music and a great range of styles, there is something for everyone here. Beginning with a stunning performance of Samuel Barber's Agnus Dei (his own arrangement of the Adagio for Strings), Trevor Weston's atmospheric Magnificat and Bach's Komm, Jesu, Komm, the first three works are notable for the way in which the choir is able to modify their performance practice to meet the demands of each era.
The remainder of Distance is equally stimulating, with Elgar's legendary Nimrod appearing in a vocal arrangement by John Cameron titled Lux aeterna, and works by Rachmaninoff, James MacMillan, and Uģis Prauliņš. In addition to these renowned composers, there are also appearances by contemporary composers Reena Esmail, Caroline Shaw and William Kraushaar, each born in the 1980s.
There is little more to say about the performances on this disc, other than that they are extraordinary. The virtuosity present in the Barber is entirely different from that demanded by Bach, which is itself radically different from Prauliņš, and each is simply stunning in its own way. This reviewer is very rarely rendered speechless but, when something is done as well as the interpretations presented here, it is undoubtedly better to talk less and listen more.