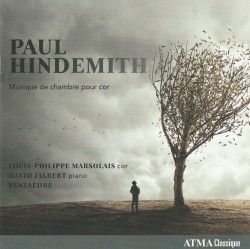 Hindemith – Chamber Music for Horn
Louis-Philippe Marsolais; David Jalbert; Pentaèdre
ATMA ACD2 2822 (atmaclassique.com/en)
Listen
Sonate fur Horn und Klavier I
Sonate fur Althorn und Klavier I
Concerto fur Horn und Orchester I
Read the Review
Paul Hindemith was a fascinating figure in 20th-century music, a prolific composer, conductor and theorist whose writings are still used to teach students in conservatories and universities around the world. A gifted violinist and violist, Hindemith was able to play almost every instrument in the orchestra, as well as the organ and piano, as he attempted to learn an instrument and its workings through practice before composing for it. Much of Hindemith's work is written in a non-tonal style in which there is nonetheless a clearly defined central pitch; this is not atonal music by any means, but rather a modernist modality that is unique and immediately distinguishable as Hindemith's own musical language.
Chamber Music for Horn features five unique works and a range of instrumentations, each featuring at least one horn, including the remarkable Concerto for Horn and Orchestra, admirably arranged for horn (Louis-Philippe Marsolais), wind ensemble (Pentaèdre) and piano (David Jalbert) by Simon Bourget; and the strikingly beautiful Sonata for Four Horns. This latter work is a masterful example of Hindemith's ingenious skill, using the four horn "voices" to create different moods and characters in exceedingly successful ways.
The intricacies of Hindemith's writing require constant precise tuning and rhythmic precision, and this disc abounds with both. Timbres are robust throughout and always impeccably tuned, allowing the resonance of each instrument to reach its full potential, while rhythms are crisp and accurate. Whether a Hindemith neophyte or a seasoned listener, this recording is highly recommended as an exploration of Hindemith's musical style, even if it contains only a small portion of this master's many works.