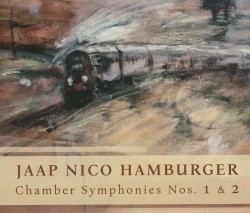 Jaap Nico Hamburger – Chamber Symphonies 1 & 2
Ensemble Caprice; Matthias Maute; l'Orchestre Métropolitain de Montréal; Vincent de Kort
Leaf Music LM235 (leaf-music.ca)
Listen
Chamber Symphony No. 1 "Remember to Forget": I. Andante
Chamber Symphony No. 2 "Children's War Diaries": III. May 1943
Chamber Symphony No. 2 "Children's War Diaries": IV. May 1944
Read the Review
Interesting, musical, inventive and new original Canadian classical music is a reason to celebrate indeed! Here, with two chamber symphonies, composer Jaap Nico Hamburger finds inspiration in honour of Remembrance Day and the 75th anniversary of the Liberation of the Netherlands to create beautiful and well-executed long-form pieces that, while dealing with the difficult theme of the brutality of war, leave listeners with an appreciation of musical excellence and a lingering sense of hopeful optimism.
Recorded in Quebec in 2019 by Ensemble Caprice under the direction of Matthias Maute, Chamber Symphony No. 1 "Remember to Forget," explores, as a tone poem, the metaphor of a train journey in sound, highlighting the teleological nature of life as we, individual agents, push forward through times of challenge and adversity towards forgiveness, atonement and a life worth living. Inspired by the sounds and biography of composer György Ligeti (1923-2006), the offering here is as complex and nuanced as the subject theme itself: strident at times, then mitigated by moments of tranquil introspection. Percussion heavy, the piece dips occasionally into carnivalesque sounds and emotions that imbue a playful and irreverent spirit into this otherwise serious piece.
Chamber Symphony No. 2 "Children's War Diaries" features l'Orchestre Métropolitain de Montréal and explores one of the darkest periods of history, the Holocaust, channelling the writing of Hamburger's grandmother, Jannie Moffie-Bolle, whose autobiography Een hemel zonder vogels ("A sky without birds") documented her experiences as a teenager in Nazi Germany. As the liner notes attest, the themes explored are sobering but important. These two Chamber Symphonies add much to the canon of Canadian classical composition and are well worth your time.