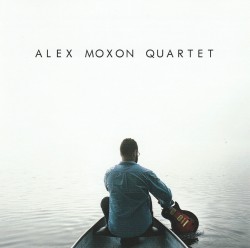 Alex Moxon Quartet
Alex Moxon Quartet
Independent (alexmoxon.com)
Read the Review
The Ottawa-based guitarist, Alex Moxon, is a musical omnivore, his very personal style of playing clearly informed by an early diet of many styles and idioms of music. Best of all, Moxon is a shining example of what true musicality means and how it is meant to devolve from composition to performance. This 2020 recording is an exquisite example, from its unassuming title and the whimsical honesty of the cover photograph, the absence of liner notes to explain any gratuitous raison d'être for the music and, of course, the music itself.
Not for Moxon are flurries of notes, dramatically rising and falling arpeggios, cerebrally dazzling runs up and down the fretboard. He strips bare the melody of each song that he has interiorized, distills the intended harmonic conception to the essential chords and rings in the changes to evoke mood and emotion very effectively. His single-note lines are beautifully moulded, the sound of his phrases are exquisitely elliptical. He turns harmony inside out, as on Piety in Crescent Park, and his sense of time is flawless. This is evident all over the repertoire of this album.
Another interesting aspect is the sonic space that is created for both the chordal instruments – Moxon's guitar and the piano played with character by Steve Boudreau, especially on the dancing, contrapuntal merry-go-round of Wood Chop. Empathetic performances are also shared by rhythm twins, bassist John Geggie and drummer Michel Delage, who also shine in their own right.