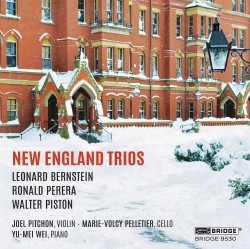 New England Trios
Joel Pitchon; Marie-Volcy Pelletier; Yu-Mei Wei
Bridge Records BRIDGE 9530 (bridgerecords.com/products/9530)
Listen
Piano Trio No. 1: I. Allegro
Piano Trio No. 2: I. Molto leggiero e capriccioso
Piano Trio: I. Adagio non troppo - Piu mosso - Allegro vivace
Read the Review
With the release of this exquisitely produced, recorded and performed disc, the skilled trio of John Pitchon (violin), Marie-Volcy Pelletier (cello) and Yu-Mei Wei (piano) have explored the New England connection between iconic American composers Ronald Perera, Walter Piston and Leonard Bernstein. All three of these seminal, 20th-century artists found common ground in their mutual New England upbringings and their education at Harvard University in Boston. Written at the age of 19, Bernstein's 1937 trio is a very early work by the genius who would ultimately blur the lines between classical, jazz and ethnomusics, which led to the very definition of contemporary American musical theatre. Interestingly, recordings of the other three trios (the two by Piston from 1935 and 1966, and the Perera from 2002) have not been available in recent years, making the disc an especially important addition to the catalogue.
Highlights of the ambitious CD are Piston's Allegro from Piano Trio No.1, a vivacious, intense and passionate interpretation, punctuated by strong, sinuous, unison lines and deep, throbbing cello work from Pelletier, and Bernstein's aforementioned Adagio non Troppo – piu mosso – Allegro Vivace, which is almost unbearably romantic, and yet rife with dark references to all-consuming passions, creative obsession and an all-too-brief creative euphoria. How prophetic those unguarded motifs are when viewed in context with Bernstein's life and work.
In Perera's Incisivo, Pitchon shines with appropriate incisor-like attack and intonation, and all three trio members move through this piece as an unstoppable single-celled organism. Of special mention is Piston's Allegro con Brio, which is a technical thrill ride, with pianist Wei dynamically clearing the path through the mysterious pizzicato forest. On this composition, Piston, being the senior of this composing triumvirate, displays his joy of experimentation that would echo generations into the future.