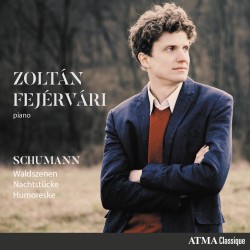 Schumann – Waldszenen; Nachtstücke; Humoreske
Zoltán Fejérvári
ATMA ACD2 2816 (atmaclassique.com/En)
Listen
Waldszenen I. Eintritt
Nachtstucke I.
Humoreske I. Einfach
Read the Review
A perfectly considered new album from Hungarian pianist, Zoltán Fejérvári, presents three works by Robert Schumann in reverse chronological order: the Humoreske, Op.20, the Nachtstücke Op.23 (both written in 1839) and the later Waldszenen, Op.82 of 1849.
Recorded at Domain Forget's Salle de concert, this all-Schumann record features slightly offbeat choices from the composer's catalogue. But taking the road less travelled has paid off for Fejérvári, as he brings a unique sensibility to Schumann's music and dwells happily in the curious – at times unnerving(!) – realms of these three cycles.
One can, rather fancifully, divide the nine pieces of the Waldszenen into two groups: those that depict the natural world (i.e. the life of the forest and its nonhuman inhabitants) and those that do not (i.e. a hunter, an inn and a farewell). Fejérvári delivers a slight heft-of-hand in this playing, rather effective for those human narratives that require warmth and tonal weight; the more ephemeral music, (inspired by the woodland itself), urges a defter touch.
The latter two-thirds of the record are filled, quite simply, with beautiful music making. Fejérvári embraces Opp.23 and 20 with spirited imagination and stylistic aplomb. A personalized probing of material is balanced with refinement of sonic design and the mercurial nature of Schumann's art is coalesced for the listener with a favourably fresh approach that connects hallmark performance practice from the early Romantic piano with that of our present day.