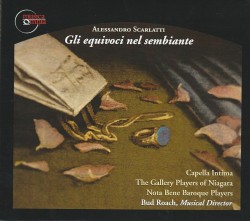 Alessandro Scarlatti – Gli equivoci nel sembiante
Capella Intima; Gallery Players of Niagara; Nota Bene Baroque Players; Bud Roach
Musica Omnia mo0803 (musicaomnia.org)
Listen
Act I, scene viii: Clori, Lisetta (Vicki St. Pierre and Sheila Dietrich)
Act II, scene vi: Eurillo (Bud Roach)
Act III, scene ii: Armindo (David Roth)
Read the Review
Alessandro Scarlatti's first opera, Gil equivoci nel sembiante, was conceived and performed in the dark days of the papacy of Innocent XI. The virtual ban on secular art meant that the defiance of its composition and its performance, albeit privately, in 1679 must rate as one of the most glorious conceits of the religious censorship of the Baroque era. This extraordinary recording captures the dizzying episodes of mistaken identity with delightfully translucent obfuscation and appropriate comedy.
The shepherd Eurillo and Clori, a nymph and object of his affection, are engaged in a hilarious, dizzy mix-up with a Eurillo look-alike, Armindo, and Clori's envious younger sister Lisetta. Each is swept up in an interlinked romantic affair that becomes so awkward that it takes a near-miraculous appearance of all four characters together at once to unknot the whole affair.
Alessandro Scarlatti (1660-1725), the most celebrated name in Baroque opera, composed more than 60 operas during his life, changing with the times and influencing the genre through significant artistic reform. His brilliant work is brought to life with uncommon vividness by these performers. The vocalists of the Capella Intima embrace the radiance and foibles contained in Domenico Filippo Contini's libretto. The Gallery Players of Niagara and the Nota Bene Baroque Players – playing period and contemporary instruments beautifully – add colourful realism to Scarlatti's exquisite music. Bud Roach adds his masterful direction to bring it all to life.