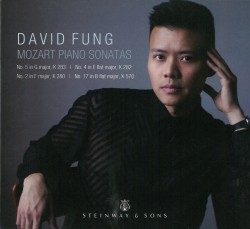 Mozart Piano Sonatas
David Fung
Steinway & Sons 30107 (steinway.com/music-and-artists/label)
Listen
Mozart – Sonata No.5 in G major K 283 – I. Allegro
Mozart – Sonata No.5 in G major K 283 – III. Presto
Mozart – Sonata No.4 in E flat major K 282 – I. Adagio
Read the Review
Steinway artist David Fung offers four lesser-known piano sonatas on his new album: the Piano Sonatas No.2 in F Major, K280, No.4 in E-flat, K282, No.5 in G Major, K283 and No.17 in B-flat, K570. Upon first hearing, Fung's vision of Mozart's keyboard music is immediately apparent. The (scant) liner notes make much of Fung's musical upbringing and exposure to the opera – the Mozartian operatic stage in particular – but these references seem status quo and rather obvious in analogy; the comparisons do not quite do justice to Fung's interpretive approach.
His is a unique and bold reading. Often, contemporaneous interpreters attempt to subdue their own (romantic) leanings, fearing to obscure the ideals of neoclassicalism as manifested in the music of W.A. Mozart. Fung, however, has no such qualms. He portrays a pianistic tableau of striking contrasts, unusual voicings and wanton manipulation of the dimension of time.
Employing a declamatory style, Fung directs the musical action from his keyboard with a strong command of phrasing and rhythmic impetus. He goes far beyond the customary approach to pulsation and accompaniment figures, in search of an inner energy of syncopated beats and subtle ostinati.
Upon repetition of A and B sections, Fung offers fresh takes on voicings that surprise the listener, challenging established conceptions of such material. By far his boldest strokes come in the form of timescale bending: the stretching out of rests, fermati and cadences, as he pushes values to the limit of neoclassical good taste. The resultant effect is generally pleasurable but does, on occasion, turn to parody. Notwithstanding, variety is the spice of life and let's applaud Fung's triumph in delivering his singular vision.