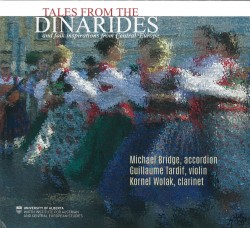 Tales from the Dinarides
Michael Bridge, Guillaume Tardif and Kornel Wolak
Wirth Institute for Austrian and Central European Studies (WIR06 michaelbridgemusic.com/store)
Listen
Ichmouratov | Tales from the Dinarides
Smetana | Die Moldau
Brahms | Rondo alla Zingarese
Read the Review
The following review is an excerpt from Editor's Corner (Summer 2019) which can be read in its entirety here.
The tango's most familiar feature is the use of accordion, or more accurately, the South American variant the bandoneon, so it is surprising to find such an extensive collection as mentioned above without that distinctive instrument. We make up for that here with a disc of transcriptions for accordion, violin and clarinet of mostly familiar music from Eastern Europe, including such staples as two Hungarian Dances by Brahms, a Chopin Mazurka and Smetana's Die Moldau in a very effective trio reduction. Tales from the Dinarides features Michael Bridge, Guillaume Tardif and Kornel Wolak and was released by the University of Alberta's Wirth Institute for Austrian and Central European Studies (WIR06 michaelbridgemusic.com/store). Recipient of the Lieutenant-Governor of Alberta's Emerging Artist Award, Bridge is currently in the Doctor of Musical Arts with Performance Emphasis on Accordion program at the University of Toronto, where for the second year in a row he has won the Joseph and Frances Macerollo Accordion Scholarship. He is no stranger to these pages where reviews of his group, Ladom, have appeared previously. At time of writing, the Bridge/Tardif/Wolak trio is on tour in Europe, having just finished concerts in Ukraine and Poland.
The title of the disc is taken from a 2016 work by prolific Tartar-Canadian composer Airat Ichmouratov which is the centrepiece of the album and the only piece written specifically for this instrumental combination. As with much of his work, the inspiration comes from the Jewish folk traditions of Central Europe, in this case the traditional singing and dancing styles of the Dinaric Alps region (Dinarides). The notes tell us that "Using a water whistle, the composer first introduces a bird in a call-and-answer episode with stunning ganga singing from Croatia. The bird then flies over mountains and valleys, observing neighbouring communities […] field songs and […] village dances [from] Bosnia, Slovenia, Serbia and Albania, until the athletic klezmer style animates everyone in a fast dance punctuated with a cheering 'Hey!'"
The disc also includes Bridge's striking adaptation of Brahms' Rondo alla Zingarese and the trio's transcription of Lutosławski's Five Dance Preludes based on Polish folk rhythms, originally scored for clarinet and piano. The playing is animated throughout, although there is room for a bit more nuance from the clarinet.