From 1984 until 1991 I was the host of Transfigured Night on CKLN-FM, a weekly contemporary music program that originally aired in the overnight slot from 2am, but eventually moved to a more civilized 10pm start. During that period I had the pleasure of meeting and interviewing many of the important practitioners in the field brought to town by the likes of the Music Gallery, New Music Concerts, Esprit Orchestra and Arraymusic. One of the most memorable characters was the pianist and erstwhile ballroom dancer Yvar Mikhashoff, whose International Tango Project resulted in some 127 commissions. I met Yvar when he was in Toronto performing selections from the project at the Music Gallery in 1987, and again when he was the featured soloist with New Music Concerts at the Premiere Dance Theatre in 1990, performing works by Henry Brant, Alvin Curran and Nils Vigeland. As an aside I would mention that this latter concert was the occasion of the now internationally renowned soprano Barbara Hannigan's first professional engagement, an obbligato role in Brant's Inside Track, for two mixed ensembles and piano.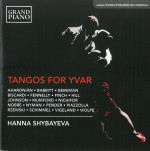 Mikhashoff, who died at 52 in 1993, left a legacy that has been taken up by American pianist Hanna Shybayeva on Tangos for Yvar (Grand Piano GP794 naxosdirect.com). Shybayeva has constructed a varied and compelling program of 18 selections, mostly written for Mikhashoff, but concluding with her own arrangement of Astor Piazzolla's classic Libertango. Strangely, and without explanation that I can find, she also includes Stefan Wolpe's 1927 Tango. While this is a good match for the rest of the project in its interpretation of the iconic dance form, and at three and a half minutes falling midway in the duration range of the commissions, its composition more than half a century before the project began surely deserves some note. There is a vast stylistic range presented here, from Chester Biscardi's evocative Incitation to Desire, one of the earliest commissions and one of the least overtly reminiscent of the tango's distinctive rhythm, to the serial approach of Milton Babbitt's It Takes Twelve to Tango, the minimalism of Tom Johnson's Tango, the moto perpetuo of Scott Pender's Tango: Ms. Jackson Dances for the People (referencing Janet Jackson's What Have You Done For Me Lately) and Frederic Rzewski's rhythmic, lilting, Steptangle. Of local note is Douglas Finch's Tango, one of four Canadian works commissioned for the marathon Music Gallery performance mentioned above, a five-part affair including 50 tangos and a slide show of Mikhashoff in full splendour from his bygone ballroom days.
As satisfying as this collection is, it leaves me wanting more. I'm very curious about what some of the composers mentioned, but not included here, came up with in response to Mikhashoff's challenge. For instance, John Cage, Karlheinz Stockhausen, Oliver Knussen and Canadian icon John Weinzweig (also commissioned by the Music Gallery for the marathon). Dare I hope for a Volume Two?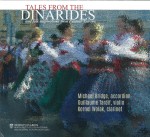 The tango's most familiar feature is the use of accordion, or more accurately, the South American variant the bandoneon, so it is surprising to find such an extensive collection as mentioned above without that distinctive instrument. We make up for that here with a disc of transcriptions for accordion, violin and clarinet of mostly familiar music from Eastern Europe, including such staples as two Hungarian Dances by Brahms, a Chopin Mazurka and Smetana's Die Moldau in a very effective trio reduction. Tales from the Dinarides features Michael Bridge, Guillaume Tardif and Kornel Wolak and was released by the University of Alberta's Wirth Institute for Austrian and Central European Studies (WIR06 michaelbridgemusic.com/store). Recipient of the Lieutenant-Governor of Alberta's Emerging Artist Award, Bridge is currently in the Doctor of Musical Arts with Performance Emphasis on Accordion program at the University of Toronto, where for the second year in a row he has won the Joseph and Frances Macerollo Accordion Scholarship. He is no stranger to these pages where reviews of his group, Ladom, have appeared previously. At time of writing, the Bridge/Tardif/Wolak trio is on tour in Europe, having just finished concerts in Ukraine and Poland.
The title of the disc is taken from a 2016 work by prolific Tartar-Canadian composer Airat Ichmouratov which is the centrepiece of the album and the only piece written specifically for this instrumental combination. As with much of his work, the inspiration comes from the Jewish folk traditions of Central Europe, in this case the traditional singing and dancing styles of the Dinaric Alps region (Dinarides). The notes tell us that "Using a water whistle, the composer first introduces a bird in a call-and-answer episode with stunning ganga singing from Croatia. The bird then flies over mountains and valleys, observing neighbouring communities […] field songs and […] village dances [from] Bosnia, Slovenia, Serbia and Albania, until the athletic klezmer style animates everyone in a fast dance punctuated with a cheering 'Hey!'"
The disc also includes Bridge's striking adaptation of Brahms' Rondo alla Zingarese and the trio's transcription of Lutosławski's Five Dance Preludes based on Polish folk rhythms, originally scored for clarinet and piano. The playing is animated throughout, although there is room for a bit more nuance from the clarinet.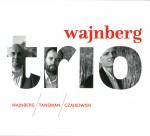 Three composers seemingly unfamiliar to me populate the next disc. Produced by the Polish Ministry of Culture, Wajnberg/Tansman/Czajkowski (Accord ACD 247-2 naxosdirect.com) features the Wajnberg Trio performing music by three Polish-born composers active in the mid-20th century. I said the composers were unfamiliar to me, but in the case of the first, Mieczysław Wajnberg, it is actually just the spelling that threw me. AKA Vaynberg and Vainberg, it seems that the composer Weinberg (1919-1996) who escaped the Nazis in 1939 and spent the rest of his life in Russia, becoming a close friend of Shostakovich, was Wajnberg in his homeland. His music has been recorded with increasing frequency in recent years and has appeared here in review on numerous occasions. Wajnberg is represented by the 1945 Piano Trio, Op.24, which like much of his music is quite reminiscent of Shostakovich, especially in its more boisterous moments. For anyone who enjoys this – as I do – there is nothing here to disappoint.
Aleksander Tansman is actually a name I know as a result of my New Music Concerts colleague Robert Aitken serving on an Aleksander Tansman Festival competition jury in the Polish city of Łódź one year when flute was the instrument in focus, but his music was not familiar to me. Tansman (1897-1986) was born and raised in Łódź during the era when Poland did not exist as an independent state, being part of Tsarist Russia. After completing his studies, he moved to France in 1919 and fell under the spell of Stravinsky, Ravel and members of Les Six, embracing the modernist styles of Paris as a welcome change from the conservative scene in his homeland. Evidently the young Polish virtuoso pianist and composer made quite an impression and forged a career in the neo-Classical style. The trio here, in its premiere recording, dates from 1938, the year before Tansman fled Europe to escape the Nazi invasion. He spent the war years in Los Angeles where he scored a number of Hollywood films and in 1946 he was nominated for an Oscar for Best Music, Scoring of a Dramatic or Comedy Picture, for Paris Underground. He returned to France after the war, and although some of his later works reflect his Polish and Jewish roots, he never moved back to his homeland.
Andrzej Czajkowski (André Tchaikovsky) was born Robert Andrzej Krauthammer in 1935. He adopted his later name after escaping the Warsaw ghetto in 1942 with his grandmother and remained in hiding for the remainder of the war. After completing piano studies in Łódź, Warsaw and Brussels, in 1957 he gave a series of successful recitals in Paris and later went on to record with some of the who's who of conductors of the day, including Böhm, Doráti, Giulini, Mitropoulos and Reiner. He also had some composition lessons with Nadia Boulanger and wrote a number of works that have begun to be acknowledged in the current century, including the opera The Merchant of Venice which was not produced until 2013, some three decades after his death. This is the world premiere of the two-movement Trio Notturno, Op.6 which dates from 1978. Also first performed posthumously, it is reminiscent of Viennese Expressionism, particularly the music of Alban Berg.
The members of the Wajnberg Trio – Piotr Sałajczyk, piano, Szymon Kreszowiec, violin and Arkadiusz Dobrowolski, cello – share a passion for the life and music of their namesake and draw their repertoire primarily from 20th-century Polish composers. The trio made its debut at the 2016 edition of the Tansman Festival. This is their first recording and a very welcome addition to my understanding of the modern piano trio repertoire.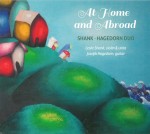 The Shank-Hagedorn Duo – Leslie Shank, violin and viola; Joseph Hagedorn, guitar – is a Minneapolis-based wife-and-husband team for whom much of the music on At Home and Abroad (innova 021 innova.mu) was composed. Although innova is the label of the American Composers Forum, not all the composers represented on this disc are American. Among the most intriguing works presented are Three Pieces by Finnish free-bass accordionist Maria Kalaniemi, arranged by Hagerdorn. The first, Slingerdansin, is jig-like with many characteristic "hookings" in the violin part which does a convincing Hardanger fiddle impersonation. Tähdet Taivahalla is a mournful ballad. I enjoyed watching Kalaniemi perform the original version on YouTube, and I find this string transcription quite convincing. Sofias Flykt returns to the world of quirky fiddle rhythms. I was dancing in my seat until I was confounded by its complexity.
American David Lang composed gift as a belated wedding present to "one of his oldest friends, Leslie." It's a lovely, gentle and contemplative tribute. Alf Houkom says there is "no program for Serenade, neither narrative, emotional or theoretical. Serenade is simply acknowledgement of the pleasure evinced by Leslie and Joe when making music together." Born in 1935, David Hahn is a generation older than the rest of the composers here. His playful W Is for Weasel dates from 2003 and is in four movements, including an Estampie in alternating seven-eight and five-eight time inspired by the early medieval dance form, and a set of variations on Pop! Goes the Weasel. Chilean guitarist/composer Javier Contreras contributes Suite for Violin and Guitar in six movements, each embodying a different Latin American dance rhythm. For the opening track, Music in Four Sharps by Ian Krouse, the guitar and violin are joined by Stephanie Arado, violin, Tom Turner, viola, and Laura Sewell, cello, to complete the string quartet required for an extended exploration of John Dowland's Frog Galliard. Like in the original, Krouse uses no accidentals, sticking with the seven notes of the E-Major scale; hence the title. Personally I found the 15-minute duration longer than I wanted to devote to those seven notes, but I must commend him for staying in the character of the piece.
We invite submissions. CDs, DVDs and comments should be sent to: DISCoveries, WholeNote Media Inc., The Centre for Social Innovation, 503 – 720 Bathurst St. Toronto ON M5S 2R4.
David Olds, DISCoveries Editor
discoveries@thewholenote.com