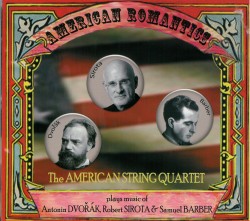 American Romantics
American String Quartet
americanstringquartet.com/discography
Listen
Antonin Dvořák: String Quartet in F Major, Op. 96 "American": I. Allegro ma non troppo
Robert Sirota: String Quartet No. 2, "American Pilgrimage": IV. Evening: Manhattan
Samuel Barber: String Quartet, Op. 11: II. Adagio
Read the Review
The following review is an excerpt from Strings Attached (November 2018) which can be read in its entirety here.
The American String Quartet celebrates its 45th anniversary in 2019. Its latest CD, American Romantics, features works by Antonin Dvořák, Robert Sirota and Samuel Barber (americanstringquartet.com/discography).
Dvořák's immensely popular String Quartet in F Major Op.96, "American" was written at Spillville, Iowa in 1893 during his first summer in the United States. It's given a solid performance here.
Sirota's String Quartet No.2, "American Pilgrimage" was commissioned by the performers and was conceived as a companion piece to Sirota's first quartet "Triptych," written in response to the 9/11 tragedy. It celebrates American geography and culture, the source material for the four movements being Protestant hymnody, gospel, Native American song and Jazz.
The Barber is the Adagio for Strings, here in its original form as the slow middle movement from the String Quartet Op.11. Recorded in 2011, six years before the rest of the disc, it's an intensely lovely performance.