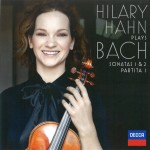 Hilary Hahn is one of the truly great violinists on the world stage, so it perhaps comes as something of a surprise to see that she has never issued a complete set of the Bach Sonatas and Partitas for Solo Violin, despite her reputation for outstanding Bach playing. Her 1997 debut CD on Sony, Hilary Hahn plays Bach (Sonata 3, Partitas 2 & 3) when she was only 17 drew rave reviews.
Now, 21 years later and with her first release on the Decca label, she completes the set with Hilary Hahn plays Bach Sonatas 1 & 2, Partita 1 (Decca Classics 4833954).
What immediately strikes you is the smoothness of line, the warmth (with full vibrato), the full measure given to the inner notes in the multiple stopping and the brilliance of the definition in the numerous presto movements. Complete technical assurance is a given, of course, but the depth of her musical intelligence and insight is always equally evident.
Hahn says that since the initial CD she has continually been asked when she would be recording the remaining works, and that she felt that "now was the moment" to do so. "What you hear in this completion of my solo Bach set," she says, "is therefore the best recording that I feel I can offer at this point in my life."
It's hard to imagine how she could ever improve on it.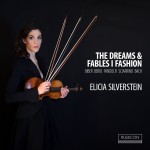 The Dreams & Fables I Fashion is the stunning debut recording by the American violinist Elicia Silverstein, considered by many to be a rising star on the European early music scene (Rubicon Classics RCD1031 rubiconclassics.com). Noted for playing music from the 17th to 21st centuries on historical and modern instruments, Silverstein demonstrates that extensive range here with music that spans 300 years.
Two Biber works from around 1676 open the disc: the Crucifixion Sonata X from the Rosary or Mystery Sonatas; and the solo Passacaglia. The contemporary Italian composer Salvatore Sciarrino's Capriccio No.2 from his Sei Capricci dates from 1976, its technical challenges handled here with ease.
Little is known about Giovanni Pandolfi Mealli (1630-c.1669/70), but his Sonata No.2 "La Cesta" from 6 Sonatas for Violin and Continuo Op.3 is really something, with some dazzling playing by Silverstein in the opening section. Another work from 1976, Luciano Berio's Sequenza VIII provides yet another opportunity for the soloist to demonstrate her complete mastery of contemporary technique.
A dazzling period-influenced performance of the Bach Chaconne from the Partita No.2 in D Minor ends an outstanding debut release that seamlessly combines period and contemporary styles.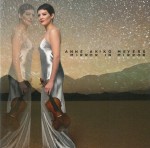 Violinist Anne Akiko Meyers is in fine form on Mirror in Mirror, her 37th album (Avie AV 2386 avie-records.com). With the exception of Ravel, Meyers has collaborated with all of the composers or arrangers on the album, several of the works being either written or arranged for her.
An arrangement of the Philip Glass Metamorphosis II by Glass collaborator Michael Riesman opens the disc, followed by two works by Arvo Pärt: Fratres; and the album's title track Spiegel im Spiegel (Mirror in Mirror).
There's a quite different sound to the Ravel Tzigane. The original violin and piano version contained instructions for a luthéal, an optional piano attachment which could add a cimbalom-sounding effect to the keyboard. It's essentially a museum piece now, and for this recording Jakub Ciupiński sampled the original instrument in a Brussels museum and produced a digital recreation of the sound for keyboard player Elizabeth Pridgen. The sound is not as strong as a regular piano, but does add a highly appropriate sound to this gypsy-inspired work. You can watch a video of the recording session on YouTube under Anne Akiko Meyers Records Ravel Tzigane with Luthéal.
John Corigliano's Lullaby for Natalie was written to mark the birth of Meyers' first child in 2010. The pianist here and in the Glass and Pärt tracks is Akira Eguchi.
Two works by Ciupiński are both for violin and electronics. Edo Lullaby is based on a Japanese folk song that Meyers' mother used to sing. Wreck of the Cumbria from 2009 was commissioned by Meyers and was inspired by the composer's exploration of an underwater wreck in Sudan in 2005.
The final track is Morton Lauridsen's own arrangement of his a cappella choral work O Magnum Mysterium, with the Philharmonia Orchestra conducted by Kristjan Järvi. It brings a thoughtful and thought-provoking CD to a beautiful close.
All but the Ravel and Pärt works are premiere recordings.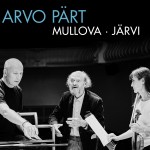 The two works by Arvo Pärt – Fratres and Spiegel im Spiegel – are also included on the new Onyx CD from the outstanding violinist Viktoria Mullova, simply titled Arvo Pärt (ONYX4201 onyxclassics.com). Paavo Järvi conducts the Estonian National Symphony Orchestra.
Pärt's tintinnabuli style, developed in the 1970s, produced one of the most distinctive compositional voices of the past 50 years. "I build with primitive materials – with the triad, with one specific tonality," said the composer. "The three notes of a triad are like bells, and that is why I call it tintinnabulation."
Nearly all of the works here were first performed by Gidon Kremer. Tabula rasa and Fratres were both written in 1977, the latter heard here in a 1991 arrangement by Pärt for violin, string orchestra and percussion. Passacaglia, written in 2003 for violin and piano was arranged for violin and strings in 2007 in honor of Kremer's 60th birthday.
Darf ich . . . for violin, bells and strings was originally dedicated to Yehudi Menuhin in 1995 but revised for Kremer in 1999. Spiegel im Spiegel dates from 1978, its slow stepwise melody over gentle piano arpeggios the epitome of Pärt's style.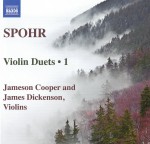 The English violinists Jameson Cooper and James Dickenson are the performers on Spohr Violin Duets 1, featuring the Three Duets Op.67 and the Duet in E-flat major WoO 21 No.3 by the 19th-century German violin virtuoso and composer Louis Spohr (Naxos 8.573763 naxos.com).
The Op.67 duos were an attempt by Spohr to produce duets that were less demanding than his previous Op.3, Op.9 and Op.39 duos, which had not sold well due to their difficulty. They are really quite charming – fresh, melodic, inventive, and with a good deal of multiple stopping, which makes them sound more like string trios at times. The Duet No.2 in D Major has long been particularly popular.
The WoO 21 duos are Spohr's earliest surviving compositions, written when he was about 12 years old. Technical ability and musical sensitivity are already there, albeit in a framework lacking mastery of form and structure. The mature composer noted that they "may be childish and incorrect, but they do nevertheless have a form and a flowing melody line." Indeed they do.
Cooper and Dickenson provide warm and stylish playing throughout an absolutely delightful CD.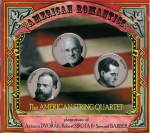 The American String Quartet celebrates its 45th anniversary in 2019. Its latest CD, American Romantics, features works by Antonin Dvořák, Robert Sirota and Samuel Barber (americanstringquartet.com/discography).
Dvořák's immensely popular String Quartet in F Major Op.96, "American" was written at Spillville, Iowa in 1893 during his first summer in the United States. It's given a solid performance here.
Sirota's String Quartet No.2, "American Pilgrimage" was commissioned by the performers and was conceived as a companion piece to Sirota's first quartet "Triptych," written in response to the 9/11 tragedy. It celebrates American geography and culture, the source material for the four movements being Protestant hymnody, gospel, Native American song and Jazz.
The Barber is the Adagio for Strings, here in its original form as the slow middle movement from the String Quartet Op.11. Recorded in 2011, six years before the rest of the disc, it's an intensely lovely performance.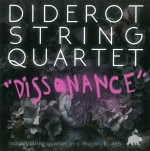 The first release on the new Bear Machine Records label is Dissonance, a performance of Mozart's String Quartet in C Major K465 by the Diderot String Quartet (bearmachinerecords.com). The ensemble, which was formed in 2012 and received training in modern and early music, uses period instruments with gut strings.
The remarkable opening Adagio of the quartet consequently sounds quite different from the rich, full approach you frequently hear, with the softer sound and minimal vibrato helping to reveal just how shocking this passage – which gives the work its name – must have sounded to contemporary audiences; you really do hear this astonishing progression with new ears. It pointed the way for the future; as the sparse accompanying notes perceptively point out: "discomfort and pain became new ways to accent the beautiful and transcendent." This is Mozart with a difference indeed, with excellent dynamic range and flexibility with tempos and phrasing.
The rest of the CD is puzzling. It's a 14-minute podcast discussion between Ben Cooper, who mixed and mastered the disc, and Josh Lee, who produced it, that can most charitably be described as Mozart for Idiots. It seems to want to be both semi-humorous – Cooper first pretending that he's never heard of Mozart and then saying that his understanding of him "comes 100 percent from the movie Amadeus" – and semi-serious, but even if it does slowly progress through very basic Mozart biography to minimal discussion of the quartet, it ends up being neither particularly amusing nor particularly informative.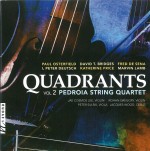 Quadrants Vol.2 features works for string quartet by six contemporary American composers in excellent performances by the Boston-based Pedroia String Quartet (Navona Records NV6184 navonarecords.com/catalog/nv6184). There is unfortunately zero information on the works or composers included with the cardboard digipak, but additional album content – basically just composer bios – is available on the website. There is also a 12-minute Quadrant Vol.2 trailer on YouTube.
Paul Osterfield's Khamsin is wider ranging in sound and technique than the other works here, but is still essentially approachable and attractive. David T. Bridges' This Fragmented Old Man is a brief take on the children's counting song, with an acknowledged nod to Carter, Bartók and Stravinsky. Ferdinando (Fred) De Sena is represented by his three-movement String Quartet No.1, and L. Peter Deutsch by the really effective Departure, the four movements representing Anticipation ("anxiety"), Preparation ("diligent activity"), Leave-taking ("sadness") and Setting Sail ("excitement"). The third movement of one of the most enjoyable works on the CD is particularly effective.
Katherine Price is a young composer with strong roots in the choral tradition. Her lovely and meditative Hymnody has shades of Samuel Barber's Adagio. Another really strong work, Marvin Lamb's Lamentations, ends an excellent disc.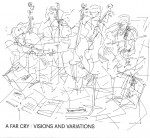 Visions and Variations is an excellent new CD by the American string ensemble A Far Cry (they are also known as The Criers) on their own label (Crier Records CR1801 afarcry.org).
There's a fine performance of the early Benjamin Britten work Variations on a Theme by Frank Bridge, followed by a newer Theme and 12 Variations work by violinist Ethan Wood called Ah! vous dirais-je, Maman: a folktale for 18 players based on characters created by W. A. Mozart. There's some lovely string writing here.
The 20 short pieces of Sergei Prokofiev's Visions Fugitives Op.22 were written individually between 1915 and 1917, many for specific friends. The Russian violist and conductor Rudolph Barshai arranged 15 of them for string ensemble, the remaining five having been arranged here by A Far Cry members Alex Fortes, Jesse Irons and Erik Higgins.