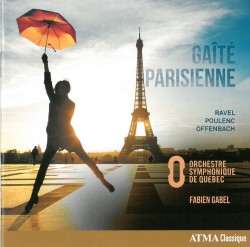 Gaîté Parisienne
Orchestre Symphonique de Québec; Fabien Gabel
ATMA ACD2 2757 (atmaclassique.com)
Listen
Assez lent
Adagietto
Ouverture
Read the Review
The following review is an excerpt from Editor's Corner (October 2018) which can be read in its entirety in our October 2018 issue.
The final disc this month provides a bit of a "guilty pleasure" or at least a nostalgic trip down memory lane. I believe I first heard Offenbach's Gaîté parisienne in my early teenage years on my mother's Reader's Digest collection of great classical favourites (I don't remember the exact title, but it was about ten LPs and had more or less what you'd expect in a sampler). A new ATMA release by the Orchestre Symphonique de Québec under the direction of Fabien Gabel – Gaîté Parisienne (ACD2 2757 atmaclassique.com) – features that cancan-filled work along with Ravel's Valses nobles et sentimentales and Poulenc's suite from Les Biches in spirited performances. Paris-born Gabel, director of the OSQ since 2012, brings with him an innate love and understanding of French repertoire as witnessed in this, OSQ's fifth ATMA, and 25th overall release, recorded live in Salle Louis-Frèchette, Grand Théâtre de Québec in May of this year.
Ravel's love of the waltz, "You know my great liking for these wonderful rhythms," resulted in a set of eight piano pieces in 1911, titled in homage to Schubert who had published two collections, Valses nobles and Valses sentimentales. Ravel orchestrated his set and in 1914 it was premiered under the direction of the legendary Pierre Monteux (who incidentally conducted the OSQ in 1962). Less well known is Poulenc's ballet suite, but it provides an appropriate bridge to the final work that is the icing on the cake, Offenbach's Gaîté parisienne, created in 1938 for Les Ballets de Monte Carlo with choreography from Léonide Massine, one of the leading lights of the former Ballet Russes. We are here presented with a half-hour long suite arranged at Massine's request, by Manuel Rosenthal drawing on the best of Offenbach's operettas, although primarily La vie parisienne. It ends with the gorgeous Barcarolle from Les contes d'Hoffmann, and a good time is had by all!