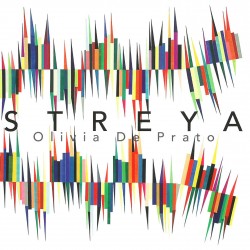 New Focus Recordings FCR193 newfocusrecordings.com
Listen
Victor Lowrie "Streya"
Reiko Füting "Tanz.Tanz"
Missy Mazzoli "Vespers for Violin"
Read the Review
The following review is an excerpt from Strings Attached (May 2018) which can be read in its entirety here.
For her debut solo CD Streya (New Focus Recordings FCR193 newfocusrecordings.com) Austro-Italian violinist Olivia De Prato chose to record works by six composers with whom she has worked closely since her move to New York in 2005.
Victor Lowrie's title track is one of three works that were written specifically for this project, Ned Rothenberg's Percorso insolito and Canadian Taylor Brook's Wane for five multi-tracked violins being the others. Samson Young's Ageha.Tokyo, written for De Prato in 2008, opens the disc, with Reiko Füting's Tanz.Tanz and Missy Mazzoli's Vespers for Violin (amplified with electronics) the final two tracks. All except the Füting are world-premiere recordings.
Fans of contemporary solo violin music will find plenty here of interest, with De Prato's excellent playing certainly making the best possible case for the works.