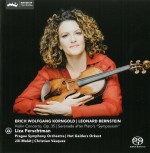 The Dutch violinist Liza Ferschtman is in terrific form on her new Super Audio CD of works by Erich Wolfgang Korngold and Leonard Bernstein (Challenge Classics CC72755 challengerecords.com). The Prague Symphony Orchestra under Jiří Malát features in Korngold's Violin Concerto Op.35, while Het Gelders Orkest under Christian Vásquez accompanies Bernstein's Serenade after Plato's "Symposium."
Korngold's cinematic concerto quotes liberally from his Hollywood movie scores, and despite its 1945 date is a late Romantic work redolent of the composer's early years in pre-war Vienna. Ferschtman's strong, rich tone is perfect for this lush work, and is particularly effective in the gorgeous slow movement.
Bernstein's Serenade, written for Isaac Stern in 1954, is a five-movement work very much with a concerto feel – Bernstein apparently referred to it as such – and also contains quotes from the composer's earlier works, this time five short pieces written as birthday presents for his friends. It's a really lovely work that really should be heard more often.
Both were recorded live, the Korngold in Ludwigshafen, Germany and the Bernstein in Arnhem in the Netherlands. The orchestral contribution is excellent throughout, as is the recording quality.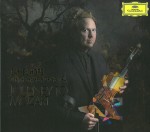 Journey to Mozart is an exploration of the musical world of Mozart and his contemporaries by the English violinist Daniel Hope (danielhope.com) with the Zurich Chamber Orchestra (Deutsche Grammophon 4798376).
Two pieces from Gluck's Orfeo ed Euridice – an orchestral Dance of the Furies and a violin adaptation of Dance of the Blessed Spirits – open the disc. Haydn's Violin Concerto in G Major has a lovely feel to it, as does the Larghetto second movement from Mysliveček's D Major Violin Concerto.
The central Mozart works are the Violin Concerto No.3 in G Major K216 and the E Major Adagio K261, the latter in a particularly lovely performance.
Johann Peter Salomon, the concert impresario who brought Haydn to London, was also a violinist and composer, and his brief Romance for violin and strings in D Major is a real delight. An arrangement of Mozart's Rondo alla turca from the A Major Piano Sonata K331 completes a terrific CD.
After numerous appearances as a guest soloist Hope became the musical director of the Zurich ensemble in 2016. Their mutual understanding is evident in performances notable for their sensitivity, clarity, energy and dynamic contrasts.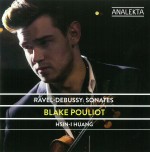 The young Canadian violinist Blake Pouliot makes an outstanding recording debut with Ravel-Debussy Sonates with pianist Hsin-I Huang (Analekta AN 2 8798 analekta.com). The Ravel works are the Tzigane and the Violin Sonata No.2 in G Major, while Debussy is represented by the Sonata for Violin and Piano and a transcription of the song Beau Soir, the latter providing a truly beautiful ending to a first-class CD.
Pouliot plays with strength, clarity, warmth, faultless intonation and a fine sense of phrase, and draws a gorgeous tone from the 1729 Guarneri del Gesù violin on loan from the Canada Council for the Arts. Huang provides splendid support for a player who is clearly going to be a major force in the violin world.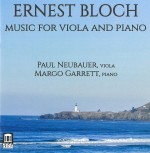 There is an interesting story behind the recent release of Ernest Bloch Music for Viola and Piano (Delos DE 3498 delosmusic.com). Violist Paul Neubauer and pianist Margo Garrett spent three days in 2001 recording all of Bloch's music for viola and piano, only for the digital audio tapes to go missing. When they resurfaced a while ago the performers were thrilled to find them not only salvageable but also featuring playing that represents their best efforts to bring these works to life.
And what playing it is! Both performers are superb in the major work on the CD, the four-movement Suite for Viola and Piano from 1919, described in The Musical Quarterly as "…one of the most significant and powerful works of our time."
The other works on the disc are the short, unfinished Sonata for Viola Solo from 1958, the year of Bloch's death, and the Suite hébraïque and the Meditation and Processional, originally written as Five Jewish Pieces in 1951 but reconfigured into two independent works and published separately.
Neubauer has a wonderful fullness to his playing, with Garrett's accompaniment of an equally high standard. There is no hint of any problem with the source tapes.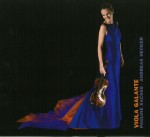 There's more lovely viola playing on Viola Galante with violist Pauline Sachse and harpsichordist Andreas Hecker playing 18th-century sonatas by C.P.E. Bach, William Flackton, Giorgio Antoniotto, Franz Benda and Christlieb Siegmund Binder (Avi-music 8553312 avi-music.de). Except for the Bach and Flackton, all are world premiere recordings of mostly forgotten repertoire.
The works are from an era when the viola was first being considered as a solo instrument, and when, in reaction to the ornamental Baroque style, a desire for delicacy and sensitivity sparked the emergence of the galant style. Both players exhibit an appropriate lightness and agility with an excellent balance, the harpsichord never too close or heavy. The opening movement of the Binder work in particular features outstanding playing by Hecker.
Sachse's 1610 Paolo Maggini Madame Butterfly viola is strung with gut strings, and produces an appropriately beautiful sound. Hecker plays a 2000 Bruce Kennedy replica of a Berlin harpsichord by Michael Mietke, ca.1700.
Excellent and informative booklet notes regarding style and technical issues, especially contemporary pitch and temperament, add to a fascinating release.
There are more world premiere recordings on Finnish Violin Music, with violinist Annemarie Åström leading performances of virtually unknown works written in the 1920s in the shadow of Sibelius (Alba Records ABCD 410 alba.fi). The three composers here share a connection, Helvi Leiviskä and Väinö Raitio having studied with Erkki Melartin at the Sibelius Academy in Helsinki.
Åström is joined by fellow KAAÅS Trio members pianist Tiina Karakorpi and cellist Ulla Lampela in Leiviskä's Piano Trio, and by violist Atte Kilpeläinen and cellist Tomas Nuñez-Garcés in Melartin's terrific Trio Op.133. Raitio is represented by the Four Pieces for Violin and Piano Op.18 and Sinivuokko, a late piece from 1943.
These are fine performances of really strong and appealing works that leave you wondering what other real gems are waiting to be rescued from obscurity.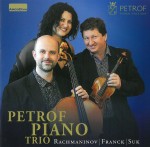 Piano trios by Rachmaninov/Franck/Suk are featured on a new CD from the Petrof Piano Trio of pianist Martina Schulmeisterová, violinist Jan Schulmeister and cellist Kamil Žvak (ArcoDiva UP 0183-2131 petrofpianotrio.com).
The three major works are Rachmaninov's Piano Trio in G Minor (a student work from 1892), César Franck's Piano Trio in F-sharp Minor Op.1 No.1 and Josef Suk's Elegy Op.23. Trio arrangements of Rachmaninov's Vocalise, Saint-Saëns' The Swan and Piazzolla's Invierno Porteño complete the disc.
The Franck is an interesting piece, a juvenile work from a composer known primarily for a few works from his final years. The Petrof Trio is in its element with Suk's lovely Elegy, but there is outstanding playing throughout the CD, with the warm, passionate and expressive string playing you would expect from Czech players and a superb piano tone and recording quality.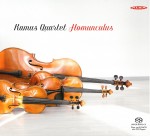 There's another world premiere recording on the new Super Audio CD from the Finnish Kamus Quartet, this time the title track Homunculus, a work by Esa-Pekka Salonen in a program that also includes György Ligeti's String Quartet No.1 (Metamorphoses Nocturnes) and Benjamin Britten's String Quartet No.3 (Alba Records ABCD 409 alba.fi).
Homunculus – a reference to a medieval alchemists' theory that all life existed in minute but perfect seeds, the tiny humans being known as homunculi – is described as "a big work in a miniature mould." Ligeti's quartet is a strong early work with a decided Bartók influence. The performance of the Britten is an insightful one, clearly helped by the winter months the Kamus Quartet spent in Aldeburgh, the composer's home on the North Sea coast.
Excellent playing and intelligent and thoughtful interpretations make this a highly satisfying disc.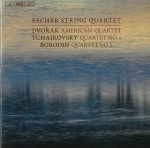 The New York-based Escher String Quartet provides rich, full-bodied Romantic playing on a new Super Audio CD of three of the most popular works in the string quartet repertoire: Dvořák's String Quartet in F Major Op.96 ("American"); Tchaikovsky's String Quartet No.1 in D Major Op.11 (the one with the famous Andante cantabile slow movement); and Borodin's String Quartet No.2 in D Major, its Scherzo and Notturno middle movements the sources for the hit songs Baubles, Bangles and Beads and And This Is My Beloved from the Broadway musical Kismet (BIS Records BIS-2280 bis.se).
Lovely works, really top-notch performances and over 80 minutes of music make for a thoroughly enjoyable CD.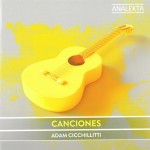 It's easy to understand why Classical Guitar Magazine described Adam Cicchillitti as a "superb Canadian guitarist" from his new CD Canciones (Analekta AN 2 8781 analekta.com).
As the booklet notes point out, few national music styles are as connected with one instrument as is Spain with the guitar, which seems imbued with the colours and spirit of the country's various regions. This disc features works by six mostly 20th-century Spanish composers: Albeniz' Suite española Op.47; Turina's Sonata Op.61; de Falla's Canciones populares españolas; Moreno Torroba's Sonatina in A major; García Lorca's Canciones españolas antiguas; and Rodrigo's Tonadilla for two guitars.
Cicchillitti's regular recital partner baritone Philippe Courchesne-Leboeuf joins him for the brief but lovely de Falla and García Lorca songs, and Steve Cowan is the second guitarist in the Rodrigo. Cicchillitti plays with technical assurance, sensitivity and a full-bodied warm sound across the whole range of the instrument.
Also, a word of appreciation for Drew Henderson, a fine guitarist in his own right, for his excellent work in the recording, editing, mixing and mastering of the CD.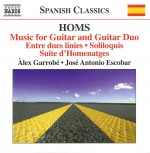 Spanish guitar music from the second half of the 20th century can be found on Music for Guitar and Guitar Duo by Joaquim Homs, a new CD in the Naxos Spanish Classics series (8.573855 naxos.com). Spanish guitarist Àlex Garrobé and Chilean José Antonio Escobar are the performers.
Homs (1906-2003) was a leading proponent of 12-tone composition, but the works here, spanning over 50 years, paint a picture of a much more diverse career that moved from early influences of French impressionism, Bartók, Stravinsky and Webern to the definitive introspective style of the last 30 years of his life following the early death of his wife in 1967. The music is idiomatic and always expressive, with only the occasional nod to extended technique – a slide guitar effect that apparently uses a bottleneck.
Recorded in Barcelona to the usual Naxos high standards, it's a fascinating CD.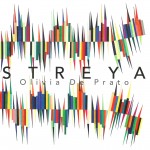 For her debut solo CD Streya (New Focus Recordings FCR193 newfocusrecordings.com) Austro-Italian violinist Olivia De Prato chose to record works by six composers with whom she has worked closely since her move to New York in 2005.
Victor Lowrie's title track is one of three works that were written specifically for this project, Ned Rothenberg's Percorso insolito and Canadian Taylor Brook's Wane for five multi-tracked violins being the others. Samson Young's Ageha.Tokyo, written for De Prato in 2008, opens the disc, with Reiko Füting's Tanz.Tanz and Missy Mazzoli's Vespers for Violin (amplified with electronics) the final two tracks. All except the Füting are world-premiere recordings.
Fans of contemporary solo violin music will find plenty here of interest, with De Prato's excellent playing certainly making the best possible case for the works.