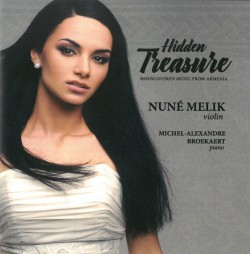 Hidden Treasure: Rediscovered Music from Armenia
Nuné Melik, Michel-Alexandres Broekaert
DOM Forlane FOR 16886 domdisques.com
Listen
Tsirani Tsar (Apricot Tree)
Gayane: Nuné's Variation
Keler Tsorer (Striding, Beaming)
Read the Review
The following review is an excerpt from Strings Attached (December 2017/January 2018) which can be read in its entirety here.
Violinist Nuné Melik makes an impressive recording debut with the CD Hidden Treasure: Rediscovered Music from Armenia with pianist Michel-Alexandres Broekaert (DOM Forlane FOR 16886 domdisques.com).
Born in Siberia of Armenian/Georgian/Jewish heritage, Melik moved to Montreal in 2009 and began to explore the music of composers from her upbringing; this recital program grew out of the resulting Hidden Treasure project. Judging by her playing here, it's clearly been an emotional and rewarding journey.
The central work on the disc is the Violin Sonata in B-flat Minor by Arno Babadjanian, written in Russia in 1959 and criticized as "formalist" by the Soviet authorities. Babadjanian's close friend Dmitri Shostakovich thought highly of it, and his influence is clearly felt; there are hints of Prokofiev in the slow movement, too.
Lovely short pieces by Komitas Vardapet, Aram Khachaturian and Alexander Spendiarian complete the disc. There's passionate, rhapsodic playing from Melik and sympathetic support from Broekaert, who also has a short solo.